Harrods Reaches One Billion in Sales Ahead of April Target
Fab Flash: Harrods Reaches Financial Target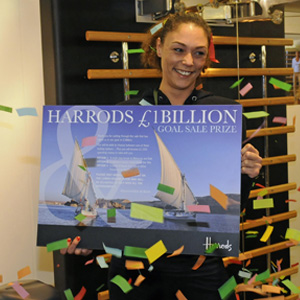 There have been some big changes at Harrods over the past twelve months, but that hasn't stopped the store's success. Last April, the world famous department store was sold by Mohammed Al Fayed to the Qatar royal family and they set themselves a steep target.
The store aimed to reach £1 billion in sales before the financial year was over, and it has just been announced that they have met their target a little earlier than expected. On Friday, sales associate Rachel Reid (pictured here) took the one billionth pound and will therefore be treated to a luxury holiday.
Managing director Michael Ward isn't getting too comfortable. "Despite this success we are by no means complacent; the future for Harrods is that we continue to raise the bar in the retail arena. Plans are already underway to bolster the beauty business in a dramatic way over the next 12 months, and the store itself is set to see even more innovation and change." Sounds like 2011 could be an exciting year for Harrods!