Heidi Klum Talks About Her Fragrance and Beauty Must Haves
Heidi Klum Tells Us About Her Fragrance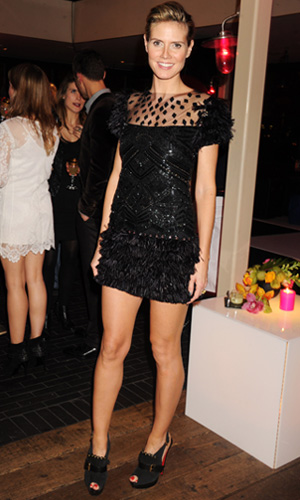 Heidi Klum was the star of InStyle's BAFTA party last night. She was joined at the event by many other celebrities, but I couldn't wait to catch up with her. Heidi looked amazing in a Marchesa LBD with Christian Louboutins heels. I managed to grab the America's Next Top Model host for a quick chat.
Have you seen any of the haute couture shows?
No, I have been filming all this time. I am filming with my Top Model team tonight. I have been going from show to show to show, it's been busy. Different kinds of shows, not fashion shows.
What are your must have items for Spring?
Hmm, see I just bought a house! So I have been buying more furniture than clothes.
Do you have any beauty must haves?
Yes, do you know Astor? The big and beautiful false lash mascara for the false lash look and I use my own skincare. It's called In an Instant.
To hear what Heidi had to say about her upcoming perfume, just read more.
Can you tell us anything about your fragrance?
Not yet, because it's only coming out in September. I have a few favourite fragrances, but I've been working on mine for a year now and I'm excited for it to come out – it's hard!
Why did you decide to launch a perfume?
Because I love perfume, I grew up around perfume. My father, he worked for 4711, which was one of the biggest cosmetic and perfume houses in Germany. So my father worked there for 25 years, so I always had cosmetics and I always had makeup and perfume around my whole life. I have a lot of experience of it, I started when I was a little girl!
Now jump over to PopUK to find out what Melanie C had to say about all the Spice pregnancies!