Heidi Klum Talks Fashion and Beauty
60 Seconds With Heidi Klum: "I Love to Push the Envelope"
We caught up with Project Runway host Heidi Klum recently, and the model-mom gave us the scoop on all things style. From her favorite red-carpet looks to what it was like to collaborate with John Galliano at the 2008 Oscars to how she unwinds at home, Heidi didn't spare any detail. And are you're wondering about her beauty routine? Click here now.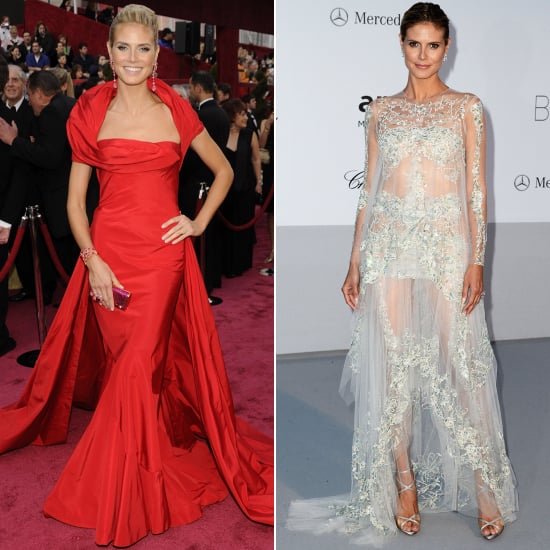 POPSUGAR: What's your most memorable red-carpet fashion moment?
Heidi Klum: Definitely John Galliano [for Christian Dior] made a beautiful red dress for the Oscars — it was made for me. So much fabric in the way he draped it around the shoulders. It was stunning how he made this dress. I really felt like Cinderella. That was probably one of my favorite dresses. Obviously, I've had many different dresses, but sometimes it's a dream of mine to have this fairy-tale princess moment. And that was my fairy-tale princess moment to wear that gigantic red dress.
PS: What was the process of collaborating with Galliano like?
HK: He drew it, and then he did the sketches, and it was just so big. Armani has made beautiful dresses for me, but they were closer to the body. I do that most of the time. Another one I loved was in Cannes, that Marchesa made — it was very see-through, but on the most important parts, it had embroideries. It was very beautiful.
More on Heidi's off-duty style and favourite flats here.
PS: How do you go about picking an outfit for the red carpet?
HK: I just fall in love with certain outfits. I see it and I fall in love with it, then I have to have it. If it's a great suit or a beautiful gown or short minidress, there's always something that makes it a little different. I don't love safe dresses. I always wear the opposite. I love to push the envelope. I don't mind experimenting with more volume or unusual cuts. I always go for that more than a conservative dress.
PS: What do you wear when you're at home with the kids?
HK: I love long skirts, long dresses to the floor. I have many different colours, red, charcoal, gray — they're always easy with flip-flops. I try to stay away from sweats. Or sometimes if I go for a hike with black leggings on and a t-shirt, I stay like that for the rest of the day. If I'm at home, I'm in more comfortable jeans. I try not to look too schlumpy. I get rid of those things so I don't get tempted.
Would you say you leave the heels for events?
HK: Yes. It's easy to walk on the soccer field in heels.
What are your favourite flats?
HK: I do love Newbark flats. I love regular flip-flops with punk studs on them. Giuseppe Zanotti flats, gladiator flats.