Helena Christensen for Agent Provocateur, Pirate Collection, Alice Dellal
Fab Ad: Helena Christensen for Agent Provocateur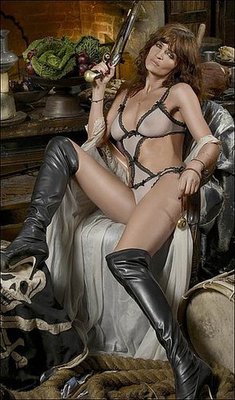 Nearly all of the papers this weekend featured this racy new lingerie ad for Agent Provocateur starring the gorgeous Helena Christensen. The 39-year-old model appears in a string of pirate themed adverts also featuring Alice Dellal.
Helena appears wearing the latest AP pirate collection and over the knee boots. The new pieces range from £12 for stockings to £295 for a corset. In September, Daisy Lowe and Peaches Geldof starred in the equally as risque Witches ad campaign. What do you think of Helena's appearance in this promotion?
Below is the video to support the latest launch but be warned, this may not be suitable for work!
To see the advertisement just read more.