Henry Holland Talks about Debenhams, Agyness Deyn and his Career
Fab Blab: Henry Holland on His Career and Agyness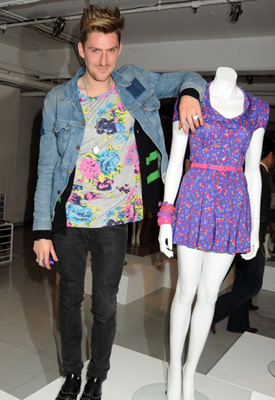 Henry Holland is becoming one of London's hottest designers. Every season, House of Holland produces a fun, on trend line with young, hipster appeal. Last week, he unveiled his collaboration with Debenhams called H! by Henry Holland.
This weekend, Henry spoke to The Guardian about the line and his general career. Debenhams might seem like an unusual choice of collaborator for Henry (the store also has also worked with Matthew Williamson, Julien Macdonald and Jasper Conran), but he was smart with his approach. "It wasn't like I came into the interview and said, 'Let's do a full leather body sheath.' You know, I was thinking about the Debenhams customer already. There's something for anyone in there."
To hear more from Henry just keep reading.
Henry began his career as the fashion editor of teen magazine Bliss and he admits that he's had an unusual rise to fame. "I started my entire business as a joke, which sounds bad, doesn't it? It's been a transition. I was a writer, I wrote on clothes and then I made clothes."
He lists Agyness Deyn as one of his oldest, closest friends and they both rose to stardom around the same time. Despite this, he says they do not sit around dwelling on it. "We'd be complete w***ers if we did that, wouldn't we? Pause the TV! 'Hang on, you're the hottest model and I'm one of the hottest young designers, let's talk about that while I make a brew.'" The diffusion line launches in early February and I was pleasantly surprised by both the items and the price point. Are you interested in this collaboration?