Henry Holland Thinks Collaborations Are Vital for Business
In my post London Fashion Week haze, I was invited to the Debenhams flagship store to check out the latest H! by Henry Holland collection and to meet the man himself. He was suffering from a cold and downing Lemsip throughout, but this didn't stop him being friendly and easy to talk to. Henry chatted happily with myself and fellow online writers including Park & Cube, Wolf Whistle and Cosmopolitan about the collaboration and his inspiration for next season (very '90s). He also revealed how he has to buy pieces for himself – no freebies! I grabbed a quick minute with Henry to find out about designing for the department store.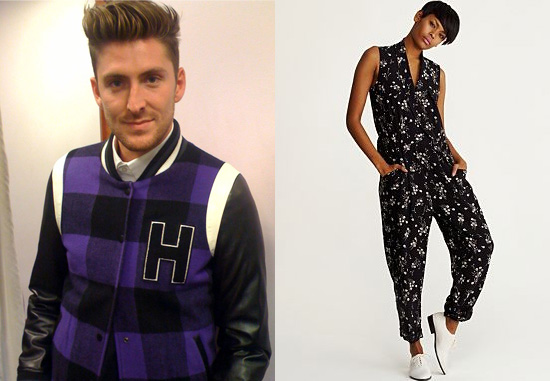 How is it different designing for a Debenhams customer rather than your main line?
HH: I think what we try and do with H! is target a slightly younger customer, so a slightly less fashion forward, but not any less fashion conscious girl.
To find out what else he had to say, just read more.
(cont') The pieces have to be wearable for a wide range of people and have a more accessible price point – which it obviously does. We've had a lot of really interesting feedback, like many other brands in Debenhams do jumpsuits, but H! is the one that is really selling them – it's a best seller. We find that our bolder prints and more quirky pieces are the best sellers, rather than the basic pieces.
Do you think it's important for London designers to collaborate with the High Street?
HH: I think it's important for every designer. I mean, I think the barriers and the prejudices have been broken down. Like Lagerfeld has done one now, and even Lanvin has just announced a H&M collaboration and Valentino are now doing Gap, People have acknowledged that it's an important part of the business.
Catwalk fashion is brilliant and it's definitely an art form and it's something which pushes the boundaries of fashion every six months, but at the same time, the market for people who can afford and wear those clothes is a very small part of society. If you wanna showcase your work in a way that's available and accessible to a much wider group of people then a High Street collaboration is the perfect way to do it.
I think House of Holland is available in possibly four stores across the UK and now H! is available in 70 stores across the country, so it's a massive leap. It's a great thing for business, for boosting the profile of my brand and it helps financially support my business. I think it translates really well. I have quite a strong brand identity and DNA which is quite easily transferable through print, colour and sense of humour.
Source: TwitPic User DebenhamsRetail