The Hills Collection Nails Inc
OMG! The Hills Collection From Nails Inc Is Here
With Season Four of the The Hills available now on DVD, and thenext season gearing up for an October premiere, beauty brand Nails Inc, is launching a line of four nail varnishes to celebrate some of Hollywood's hottest young women. Week after week on the silver screen and at parties, we see Lauren, Heidi, Audrina, Whitney, Lo and Stephanie walking around Southern California with trendy and ever changing nail and toe varnishes in colours like hot pink, pretty periwinkle and totally rockin' teal (like Lauren Conrad).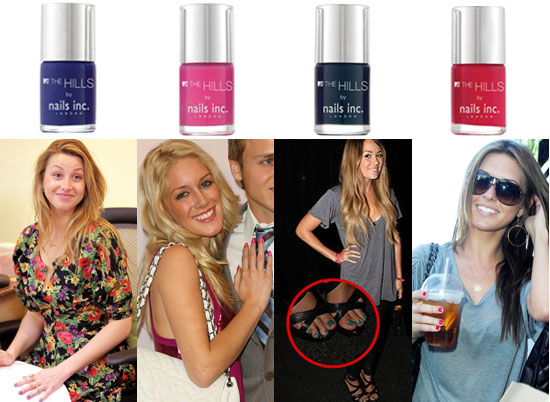 My favourite shade of the bunch is Beverly Hills, a deep raspberry-red colour that looks great any season of the year. The set is available for £20 from 17th September online or at House of Fraser. For more images of each of the polishes, plus a description, just read more.
Hollywood is a true neon punky pink with a high shine finish.
Beverly Hills is a hot and sexy red-pink shade.
Melrose Avenue is a purpley-blue indigo hue.
Rodeo Drive is a dark bluish-green (much like the colour we spotted on Rachel Bilson at Fashion Week.