How the Fashion World Reacted to Marc Jacobs Leaving Louis Vuitton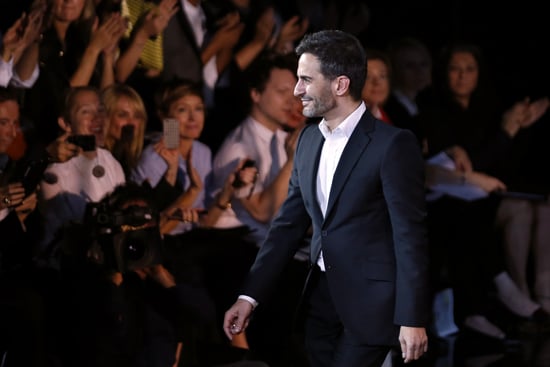 When Bernard Arnault announced that Marc Jacobs would be leaving Louis Vuitton, the fashion world erupted with an outpouring of emotion about his departure, most of it coming through on social media.
But it's important to know that Jacobs isn't leaving fashion altogether — instead, he'll use his time off to focus on preparing Marc Jacobs International for an eventual initial public offering, which might happen some time in the next three years.
"This brand has an enormous potential all over the world," Arnault said in an interview with WWD. "To materialize this potential, we decided together within the next two or three years, to do an IPO. This requires a lot of investment on our side, a lot of management on our side, and a lot of personal investment for Marc and Robert to really give the input, both creatively and communication-wise on the brand, all over the world. So it will take a lot of the energy of both of them."
And while it's an exciting prospect (can you imagine what Marc Jacobs will look like when it has the capital to be a megabrand like Michael Kors?), the only thing anyone could do today was talk about how fitting his Spring 2014 show was as a departure. A look at some of the best responses to Jacobs's show here.
Dear Marc Jacobs. You are a class act. What a beautiful way to say goodbye @LouisVuitton

— Nina Garcia (@ninagarcia) October 2, 2013
If anyone asks, the tears in my eyes are because of jetlag, not the overwhelmingly perfect, dark glamour of @LouisVuitton. Yes, jetlag.

— Eva Chen (@evachen212) October 2, 2013
Whoever @LouisVuitton names as next creative director, I hope they keep the prompt show times. Great Marc Jacobs innovation. #PFW

— Vanessa Friedman (@VVFriedman) October 2, 2013
Moving last show from Marc Jacobs @LouisVuitton. Knowing how to exit just as important as how to make an entrance @BritishVogue

— Alexandra Shulman (@AShulman2) October 2, 2013
@LouisVuitton it's all here: escalators, elevators, carousels, the fountains, we are ready Marc's greatest hits #PFW

— Michael Carl (@carlscrush) October 2, 2013
Between the Yankees and MJ, these departures are killing me.

— Valerie Hite ☕️ (@vogueandcoffee) October 2, 2013
It's the end of an era. Marc Jacobs took his last bow for Louis Vuitton today But on the bright side, talent always bubbles to the top-

— DKNY PR GIRL® (@dkny) October 2, 2013