How to Get Your Hair to Grow Faster
5 Unusual Ways to Get Your Hair Growing Faster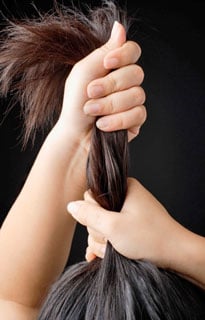 Trying to grow your hair out and not having much success? While there aren't any miracle products that'll give you Rapunzel locks in no time — aside from extensions, of course — there are actually lots of things you can do to optimise your hair growth. So to find out what you can do to get your hair flowing quickly, just keep reading.
Eat more spicy food. Capsaicin, the chemical that makes peppers spicy, has been shown to promote hair growth by mimicking natural human growth factors.
The same goes for soy milk. The isoflavones in soy are known to increase hair growth.
Take a biotin supplement. If you're not getting enough biotin in your diet, it could be hampering your length. Biotin also naturally occurs in tomatoes, carrots, romaine, and chard. Make a salad already!
Give yourself a scalp massage. They increase circulation, helping stimulate your hair follicles.
Cut down on your stress. Stress slows down hair growth, among about a million other ill effects. Finding a healthy way to manage it can help speed things back up.