How to Wear Lace Tights, Autumn 2008, Trend
Style for Style: How to Wear Lace Tights
Last week I suggested ways to wear coloured-opaque tights, and today I'm continuing the tights focus with on-trend lace. Lace appeared on the catwalk at Prada where it shaped everything from skirts, dresses and handbags, but how does that translate to mere mortals like us, you ask?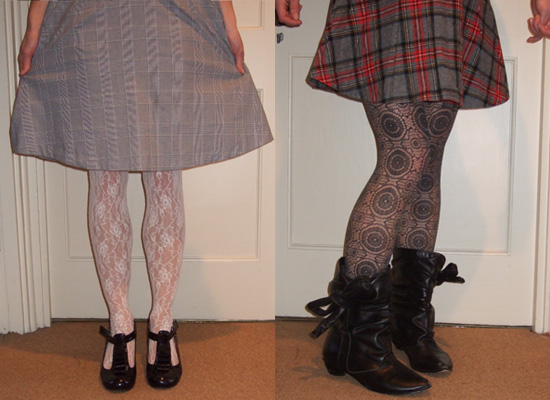 There is a lot of lace on the High Street nowadays, but wearing them in the form of tights is an easy way to look stylish without going all out. They are also classy and look incredible when paired with another Autumn trend; tartan. I decided to team a pair of Fantasia tights by Jonathan Aston (£10) with a traditional tartan mini skirt for an Agyness Deyn-style punk look.
For how to wear white lace read more.
When I first saw white lace tights, I could think of nothing more than turning them into a pair of fingerless gloves like Madonna's in the '80's, however, I finally styled myself in a ensemble that's both chic and easy to wear. This Sweet Rose Lace (£11) pair reminds me of what I used to wear as a little girl. I matched them with funky t-bar heels and a Prince of Wales check knee-length dress so that I didn't look too Lolita. Which of these two different lace looks do you prefer?