How to Wear Silver Skinny Jeans
Style for Style: Silver Jeans
When I first found out about Gio Goi's crystal wash jeans (£65) I just had to see them for myself. Designers are continually trying to end the skinny jeans phenomenon but most people (myself included) can't seem to give them up. The jeans looked very unflattering in the picture so I wondered how I might wear them.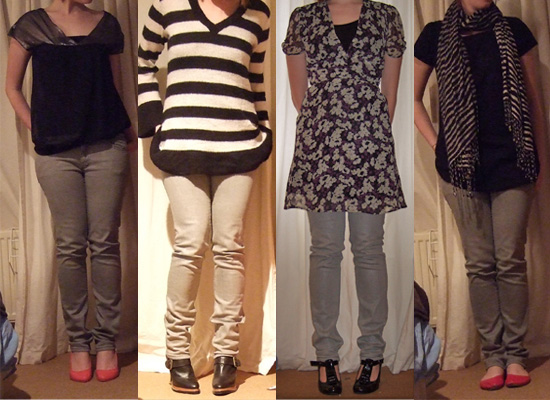 When I first put the jeans on I was impressed by the fit. I am not Kate-Moss-skinny but I don't think you have to be to wear skinny trousers. The waist wasn't exactly loose but, as you can see from the picture, the leg was baggy enough to look flattering. To what to wear with these jeans just read more.
The jeans are shaped slightly higher at the back too so you avoid the infamous builders-bum problem! The jeans are available in several lengths but being 5'8" I thought the long would be best suited. With flat shoes (far right) they were too long but I always try and get jeans for heels as it's more flattering. You can always turn them up to make the length flexible.
It's not clear in my photos but the jeans have a faint glitter finish and thick stitching around the pockets. On the label it warns that the colour might fade over time but I think they'd actually look better when they'd faded slightly. The glitter aspect immediately made me want to wear them for dancing so I added in a bright pair of heels and a sheer top that picked up the silver in the shoulder detailing (far left). For day wear, I added a long black top or stripey jumper with either flats or ankle boots.
Finally, I cannot resist wearing a dress over jeans so I went for a purple floral style to brighten up the look. If you worked in a casual office this would make a great daytime ensemble. What do you think of the jeans?