How to wear Opaque color tights
Style for Style: How to Wear Opaque Colour Tights
This season as we see the return of the skirt we also see a rise in importance of tights. Tights (also known as pantyhose on the otherside of the pond) come in all colours and prints for Autumn 2008 including in the key trends of tartan and lace. Over the next few weeks I'll be suggesting ways to wear the new seemingly-scary styles by sharing my own legs with you!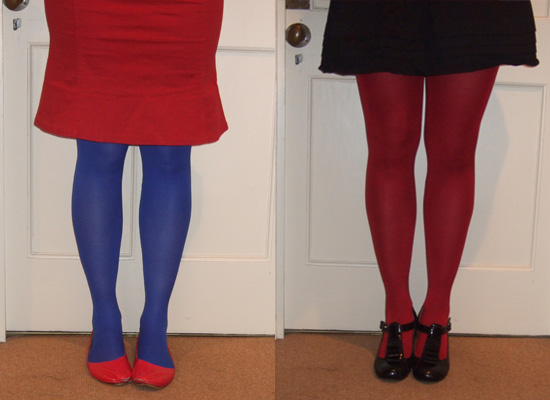 Firstly I'm going to tell you about opaque bright coloured tights. This is one of the easiest and cheapest ways to stay on trend right now. I tried a royal blue pair by Jonathan Aston at mytights.com (£5) first and decided to team them with another primary colour for the biggest impact. Despite being told that I slightly resembled a smurf I liked the colour and they made me feel like Katie White from the Ting Tings. Although they are a relatively cheap style they were still thick enough and the colour pigment was certainly adequately bright!
To find out about how to wear red tights read more
The second tights I tried were a Pretty Polly Nanopaque pair in Mulberry (£10). They almost had a wetlook appearance making the colour seem stronger, although when on the wetlook quality was not obvious. Unlike the previous blue pair paying more for this style really did pay off as the colour was thicker and did not reveal my own flesh tones at all.
If you are feeling really daring then wearing red tights with a clashing pink dress or shoes would create a great look. However, I wanted to make the tights accessible so wore with a short black bubble skirt and black t-bar heels. This played down the bright colour slightly. Unless you are intending to clash the red I would avoid wearing with any shades other than monochrome.
I wore with patent heels to add extra texture but flats would look cute too. It would be difficult (although never impossible) to wear bright coloured tights for a smart event. If attempting this then I would show a glimpse of colour by teaming with a knee-length skirt and boots. They're great for casual wear and look really funky with trainers such as Converse. Stay tuned for more tips on how to wear this season's tights!