Interview with Ann Sofie Back about Autumn Winter 2009
Few Fab Words With Ann Sofie Back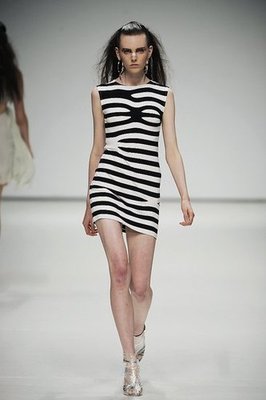 Last week I checked out the Swedish Fashion exhibit at the Fashion and Textiles museum and caught up with London based designer Ann Sofie Back. Ann Sofie has been showing in London for several years, she has collaborated with Topshop and her clothes have been worn by Rihanna and Estelle. She told me about the differences between Swedish and British fashion, the inspiration for her Autumn '09 collection and her thoughts on sexiness.
What makes Swedish fashion different?
I'm gonna say some clichés now! Lack of colour, not always original (more followers than leaders I'd say), and quite good at denim and everyday wear in general.
Does this reflect Swedish street fashion?
Yeah but I think on the streets of Stockholm people are a lot more trendy than here but they're all wearing the same thing. There's one thing that's fashionable at a time, like this Summer everyone had bright socks and rolled up chinos. That was like a local trend in Stockholm and you went there and were like, "Oh shit whats going on? I haven't seen this anywhere else". And then you find out that Acne had that on a show and therefore everyones wearing it. People are very quick to pick up on trends but not very original with it.
To hear about Ann Sofie's influences for next season, just read more.
You studied in Sweden and London, does your fashion fuse the two cultures?
I don't think I'm that Swedish in the way that the actual designs look, but maybe in my outlook. I'm a bit more feminist than other designers. I think about notions on beauty and what is considered sexy. I have a little bit of a problem with sexiness all round. I don't think Swedish fashion is particularly sexy so I might have that in common.
Who are the key names emerging from Sweden?
Knitwear designer Sandra Buckland is really talented, and for denim/daywear I'd say Acne are really good – they're like the Swedish APC!
Can you tell us about the inspiration for A/W 09 show?
At first we were going to do an imaginary inspiration trip. You know when designers run out of ideas they go to Morocco and do a Moroccan collection? Well, we were gonna do an imaginary trip, me and my design assistant, to America and do an American collection. We realised quite quickly that it was too broad a theme and also that all the American stereotypes are in horror movies, like Poltergeist and Friday 13th. So we looked at horror movies, the cheesy ones from '70s/'80s. It's a really, really nice collection I'm so happy with it.
Has the economy affected your designs?
I'm sad to say no, they should have! They say that in financial downturn creativity blossoms so I'm hoping for that!