Interview with Custo Dalmau of Custo Barcelona, Swimwear
Few Fab Words With Custo Dalmau
Last night Corona Extra hosted a Save the Beach event with a catwalk show by beachwear designer Custo Dalmau of Custo Barcelona and starring Bar Refaeli. I was lucky enough to be invited along to the evening where they truly brought the beach to London. I got a few minutes to catch up with Custo to find out about the inspiration behind his Spring line and his eco concerns.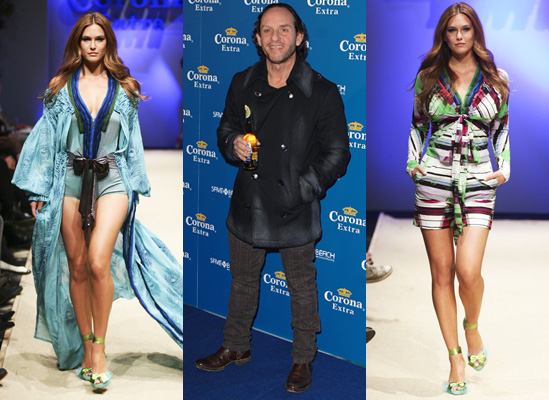 To hear what Custo had to say and for more photos just read more.
Can you tell me a bit about the inspiration behind your Spring line?
Basically the inspiration was about remaking our identity. We have 27 years in the market already with this project and it was all about a mix of graphics, mix of colours and mix of materials. We intensify the use of colour, we use a lot of vibrant colours mixed with neon tones. Also, the use of materials, natural fibres coming from coral and bamboo. The mix of natural and new fibres gives you a very new language.
Did you encounter any problems?
Not really. Well, you always encounter some. The small problems are part of the job, you know? But not any major problems.
Do you have a favourite piece?
The collection that we are presenting today is basically swimwear. So maybe the tunics? Some tunics to wear over a bikini.
Can you tell me a bit about the fabrics which you used?
For the swimwear, basically stretch materials based on acetate, nylon with lycra. And for the clothes over the swimwear, that don't go in to the water like the tuni then cotton and silk.
Which designers have inspired you?
Probably our work (our job) is more inspired by art than other designers because colour is very important in our job. So some of our influence comes from painters, like Matisse for example for the use of colours. It's difficult to know what inspires and what not, but architecture is a big thing in Barcelona (Custo's home town) so maybe a little bit of Gaudi. Gaudi mixed many materials for a project and we mix a lot of materials.
Who would you like to see wearing your clothes?
Everybody that feels happy wearing it. Some Hollywood celebrities already wear our clothes like Julia Roberts, Drew Barrymore, Cameron Diaz.
Why did you decide to show in London today and get involved in this event?
We always have been concerned about what is going on with the planet and this action is a little bit in order to protect part of the planet; the beaches. Showing our swimwear collection will make a synergy with this action and also we support the protection of the environment. I think eco concerns will affect everything in our lives.
You show your collections in New York, why did you decide to show there?
We started showing in NY in 1997 and we are from Barcelona so for us the runway shows that have a good international projection are only Milan, Paris and New York. Well, we were invited to participate in 1997 and we're still there because of the cities good international projection. America is biggest market for us. I don't think out style is influenced by their lifestyle. Maybe in some collections the life and style of America in the '60s and '70s is an inspiration.