Interview With Fashion Photographer Rankin
Be Nice, Take Mysterious Selfies, and Don't Be Afraid of Colour: Rankin's Advice For Budding Fashion Photographers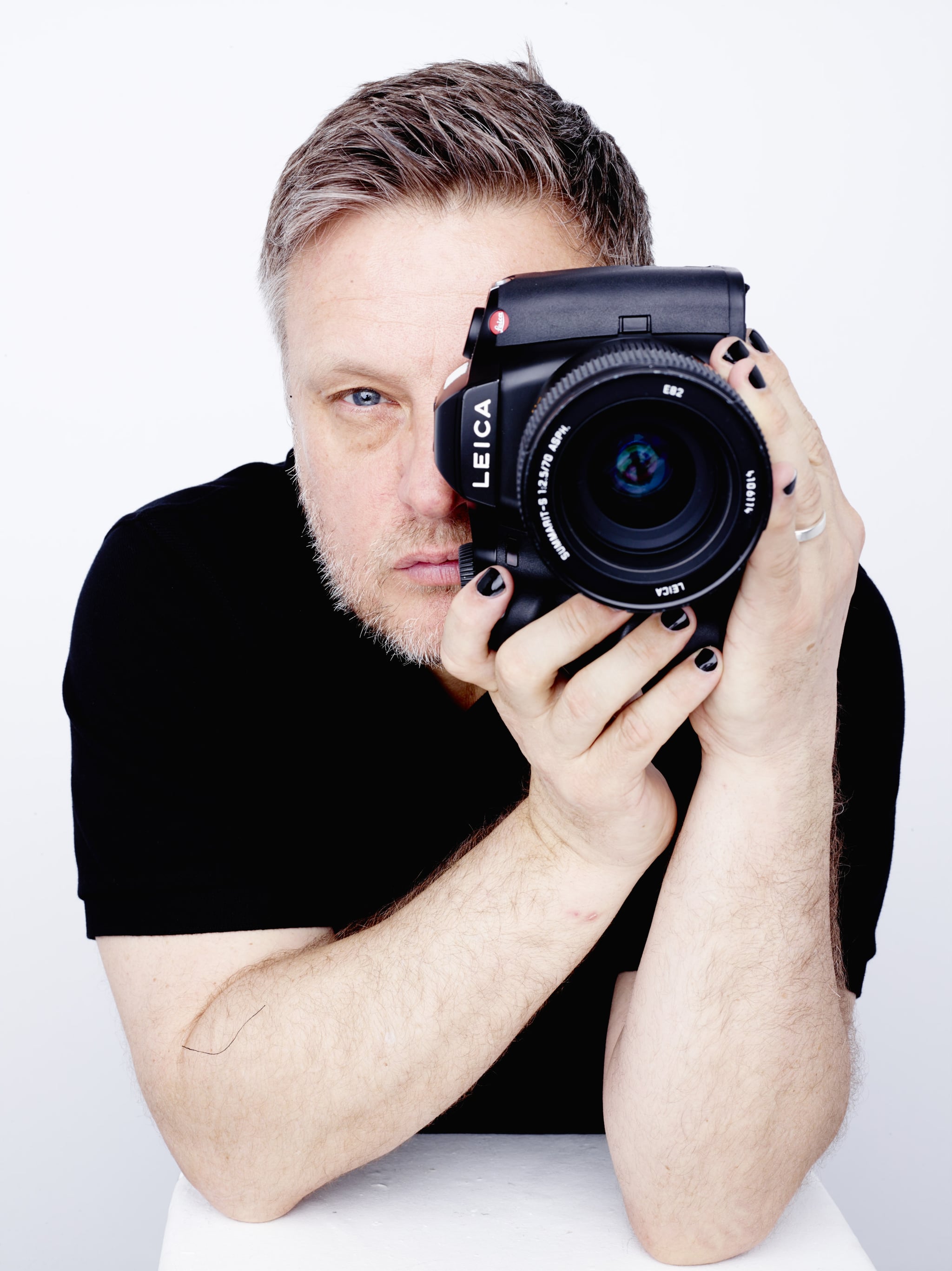 For over 20 years, Rankin has been photographing models, celebrities, and interesting faces for publications like Dazed & Confused, AnOther Magazine, and Hunger, as well as shooting music videos for some of the world's most famous musicians. When it comes to stylish photography and impactful images, there's nothing this man doesn't know. So we caught up with him to find out more about how he works and get some advice on how to take better photos. Whether you're interested in a career in fashion photography or you just want to snap the best selfies ever, Rankin has some top tips.
POPSUGAR: What's one interesting/unexpected thing about your job that nobody would expect?
Rankin: That the camera you use is not what makes the photo, but the person that uses the camera! There's a lot of brilliant equipment out there, but in the end, it comes down to the photographer and their subject.
PS: Your body of work is huge, but is there any one shoot or project that stands out, and why?
R: Everything I've done with Oxfam has really stood out. It has always taken me out of my comfort zone, and I've met and photographed people that have made me laugh and cry equally. And, of course, I am really enjoying working with Essie on the Colour Portrait Studio.
PS: Who's the most fun or surprising celebrity or model you've ever worked with?
R: Heidi Klum is always fun and super smart. She really gets involved in the shoot. The most surprising was Gordon Brown. He was just so charming and funny. I loved him.
PS: Which designers inspire you? Is there anyone whose clothes you particularly love to shoot?
R: That's such a difficult question. I really admire anybody that can take what they love and make a business out of it whilst also staying creative within it. I love to shoot anything by Marc Jacobs, and I just love how funny Jeremy Scott is. Both designers have such a great sense of mischief and "pop" to their work.
PS: You've shot music videos for Miley Cyrus, Tove Lo, and Kelis. If you could shoot a video for any track on any album by any living artist, what would it be?
R: I'd shoot a video for anything by the Rolling Stones, but I would particularly love to shoot a video for "Gimme Shelter". They're a group of people that I've had the chance to photograph, and I've loved it every time. Their music still sounds fresh 50 years after they started making it.
PS: If you could go back in time and shoot any fashion icon, who would it be and what would the style of the shoot be?
R: I wish I could have photographed Charlie Chaplin. That would have been a trip! I would have liked to do his portrait the way I shoot all of my portraits — quite confrontational, looking straight down the lens! More personality, less artistic pretention.
PS: If you could shoot anywhere in the world you haven't yet, where would it be?
R: India. I'd love to do some work on location there. The people, colours, and light seem magical.
PS: You're no stranger to the self-portrait, but how do you feel about selfies? Can they be "art"?
R: Of course they can be art. Anything can be art if approached or appropriated in the right way. But the problem is they are actually more likely to make you look homogenous! Where portraiture should be revealing, selfies just make you more like the next person taking a selfie.
PS: What are your top tips for looking great in photos (and selfies, of course)?
R: Looking great is easy: just take a picture from a slightly higher angle with soft light. But instead, why don't you try taking a picture that is more interesting than just looking "good"? Try one that is more mysterious or experimental — something that reveals your personality as well as, or instead of, superficial beauty.
PS: For people who are interested in a career in photography, what's the best way to start? Studying at Uni or work experience/internships?
R: I always think going to college is a good thing, even if it's just to explore and contemplate what you'd like to do — you can test things out and experiment in environments like that. It's always good to do work experience as you get to dip into professional situations without having to commit too much. Once you become an assistant you won't have as much time to experiment.
PS: For those starting out in "Generation Instagram", how do they make their mark when everyone thinks they're a photographer?
R: That's a tough question. There are so many people out there trying to make a mark, and it's a very competitive world of image making. To stand out, I think you need to have a distinctive style and an individual perspective. The way we consume images now is fast and furious, so you have to come up with something that hasn't been seen too much — ideas that make people want to share them. You also need to fight and fight to be seen amongst the barrage of other images. So really try to understand how social media works, even if you eventually negate or reject it!
PS: How do you incorporate technology into your work? Is it all digital now, or do you ever use analog methods too?
R: I'm probably one of a few photographers that really love digital technology. I embraced it almost the moment it came to market. But of course I love analog as well — I used it for almost 20 years! Personally, I think it's a subjective decision and to each their own.
PS: Use of colour is clearly a very large part of your work — why is it so important to you?
R: As a kid, the word colour used to be my trick question in "I spy". I spy something beginning with "c". Nobody ever got it. I was always just obsessed with colour. It's this incredibly powerful but intangible thing that contributes so much to how we interpret the world.
PS: Aside from setting a mood, how can we all use colour to make an impact?
R: Just don't be afraid of it. As a form of expression, in your pictures, on your nails . . . embrace it and use it in an impulsive way.
PS: As a participator, commentator, and ambassador of the fashion industry since the early '90s, how has the landscape changed for the better/worse?
R: It's more competitive, but there are also loads more outlets for work. When I started, probably a few hundred thousand people read what we "creatives" were all working on. Now millions do. That means there's a much greater audience for your work, but competition is higher too — there are more people involved than ever before.
PS: Do you go to Fashion Week? How has it changed in London over the last 20 years?
R: It's just bigger and better. The industry has so much more money and therefore more opportunities — it's inspiring to see so many young designers, photographers, stylists, and editors in one place.
PS: What's in the pipeline for Hunger, and what other projects of yours should we be excited about?
R: Work on Hunger issue 11 is already underway, and it's looking like it could be our best issue to date. As ever, we're committed to showcasing the best emerging talent — artists who are subverting the system and approaching and presenting the world from a totally different perspective. Our online presence is expanding too, reflecting what we put in the magazine but on a day-to-day basis.
PS: And finally, what's the one thing you wish someone had told you when you were starting out in the industry?
R: Be nice to everybody on the way up, as they'll all still be around in 30 years!
Rankin and nail salon expert Essie are launching the Colour Portrait Studio on 17 May to celebrate the beauty of nails and the stunning spectrum of Essie's collection. You could win the chance to be photographed by Rankin — get involved by visiting the Essie website.