Interview with Fearne Cotton on Her Clothing Range
Exclusive! Few Fab Words with Fearne Cotton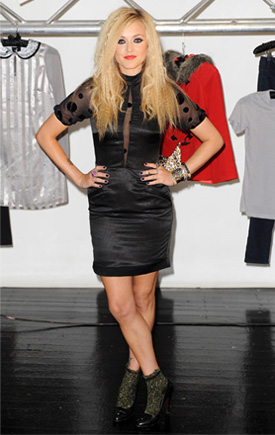 I always imagined Fearne Cotton to be gorgeous, fun and friendly and now having met her I am pleased to confirm that she is all of those things! Last night, she launched the latest installment of her clothing range at a venue in London as she continues to collaborate with Very.
I say collaborate, but I feel that slightly undermines the amount of work, time and effort Fearne has put in to this range. Kate Moss "can't sketch", Victoria Beckham "can't draw", but Fearne has been carrying round a note pad for months jotting down and drawing her ideas before Very made them a reality. There is evidence of this all over the venue as her creative talents are put to good use (she is a keen artist).
If you needed any proof of how friendly Fearne is, you only had to look around the small space which was packed out with people supporting her on this venture. From showbiz colleagues Reggie Yates and Sarah Cawood, and cool celeb mates like VV Brown and Kelly Jones, to her Mum, there was no shortage of people on hand to make her efforts worthwhile.
To keep learning about Fearne, just read more.
I managed to grab a minute with her whilst she sipped on an apple martini (which her Mum helpfully replaced mid interview) and she admitted she'd been "terrified" all day. She said that it was important for her to work with an online retailer explaining, "I do all my shopping online – it's great for interacting with customers. Also, Very allowed me to have a hands on approach and to do my own sketches."
She spoke about her inspiration, "Very '70s, David Bowie, Led Zepplin, My Mum in the '70s, Jimmy Paige," and confessed to being a big Biba fan. "My Mum and my aunt had loads of stuff from there, in fact my cousin (she points her out) is even called Biba!"
Fearne described the project as "my baby" and loves all of the pieces. She is wearing her favourite piece from the collection – the black party frock (£69) which she says is "very comfortable and structured". She explained that she'd already completed her Spring collection which was "inspired by Debbie Harry – girly but tough", and has even begun working on Autumn 2010.
There was a little addition to her Very collaboration as Fearne announced that she'd also been working with Converse on her very own pair of trainers. "I live in Converse, I actually love them and wear them 'til they're worn out. In fact, whilst on a recent charity trip to Africa a homeless child asked me, 'Why are you wearing holey shoes?' So I decided to throw those away!" The shoes are, unsurprisingly, leopard print with red detailing and again her sketches were there to prove her hard work.
Photographs by James Gilham courtesy of ShinyRed and WireImage