Interview with Guillaume Henry Following Net a Porter Dinner
Introducing Guillaume Henry for Carven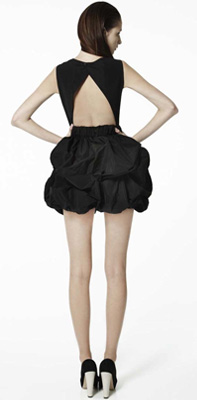 Last week, I was lucky enough to be invited by Natalie Massenet of Net-a-Porter fame to a dinner with Guillaume Henry. The young French designer is working on the revival of Carven and has just created his second collection for the brand for Autumn/Winter 2010. We dined at Blakes hotel in Kensington whilst Guillaume charmed some of the biggest names in fashion media with his passion for womenswear and gorgeous accent!
When I first met him at the dinner, he confessed to being a bit nervous and overwhelmed by the event, but he soon settled in and made a great deal of effort with everybody at the dinner. This included Dolly Jones from Vogue, Paula Reed from Grazia, Jo Elvin from Glamour and Tala Samman from My Fash Diary.
The next day, I caught up with Guillaume again as he talked me through both collections. The Spring line (which is available now) is surprisingly affordable with cute dresses, shorts and cropped cardigans. He loves to play with dimension, which is evident in both collections. To hear from the fashion industry's hottest new name, just read more.
How did you become involved with Carven? I worked at Givenchy and at Paule Ka. When they started the casting to get a creative director (for Carven) they'd been told about me, so they contacted me. They asked me a question – what's Carven for you? And I said, "Dress, dress, dress and no more haute couture", and that's exactly what they expected. So it was a kind of being in the right place at the right time and with the right people!
Which designers have influenced you? I have to say I have always admired Prada because she is really clever and she has such a personality. American fashion has influenced me, like Claire McCardell, she was a designer in the '50s and '60s. I love the clothes she was doing because they're so chic, so simple and sporty at the same time.
Who is the Carven customer? A girl who would wake up, take care of the children, go to work and party during the evening. It's my next door neighbour, it can be you, it can be the girl next door and from any ages! I like that. We're selling the collection at Bon Marche in Paris and we've got customers from 17 to 70! And she can wear the same dress. But look quite different. That's what I love – you create your own story.
Can you tell me about when you met Natalie Massenet and how she has helped you? Net-a-Porter was something I knew of, of course, it's so famous and she came to the studio and I wasn't expecting her to buy the clothes. I was just thinking she's professional and she's checking what is new. And for me, that was already enormous to see her in the showroom! I heard that she might come, at first she came and then she came back to buy! And then I was thinking she would buy a few things to try, because can you imagine how risky it was even for her because it was our first production. She picked a lot of things, and she bought a lot! It was amazing. She is like a fairy godmother. I respect her so much.
Stay tuned for the second part of my interview where he discusses style icons and the Autumn collection.