Interview with House of Blue Eyes Designer Johnny at London Fashion Week
A Few Fab Words At House of Blue Eyes
Last weekend, as part of London Fashion Week BellaSugar UK and I headed to a fashion presentation that was truly unique. House of Blue Eyes was established in 2008 with a fashion show that Kate Moss famously made an appearance in. Johnny BlueEyes is the creative director and he is truly dedicated to the brand. This season the collection had a late '60s hippy feel with bright colours, body art (find out more about the makeup here), and psychadelic prints. The shoes were provided by Melissa and then customised by House of Blue Eyes.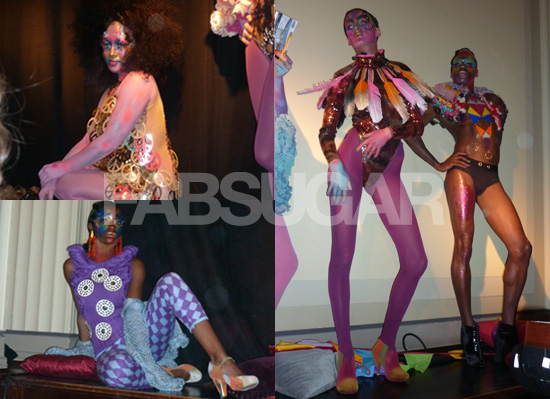 Johnny was heavily involved in the presentation describing his models as "angels" and orchestrating an impromptu catwalk show in the corridor. I managed to get a quick few minutes with him as he had a cup of tea and I couldn't help but warm to his positive attitude. He asked me if I enjoyed the show and I commented that it reminded me of an Ossie Clark show from the early '70s, he replied that "Ossie Clark is a huge inspiration".
Why did you decide to stage your presentation like this?
"I did it like this because I believe in uniqueness. I believe in a bright and positive world and I wanted to share this with everybody."
To hear what else Johnny had to say and for photos, just read more.
Which fabrics do you like to use?
"I'm all about upcycling which is a process where by we rework vintage fabrics. It's then hand dyed. The world is beautiful and there are so many things we can reuse. It's important for us to be environmentally friendly."
You mentioned that you've done a painting of Lee McQueen (which he intended to lead a parade through the streets with it). How did you feel when he died?
"He was such an amazing artist, I thought of him as an angel of art. It was upsetting and shocking. However, there is a sense of lightness and freedom and we shouldn't be afraid of passing on and letting him pass on."
Photos courtesy of Merry Brownfield