Interview with Keira Knightley Hayley Atwell Costume The Duchess
Few Fab Words About Costume in The Duchess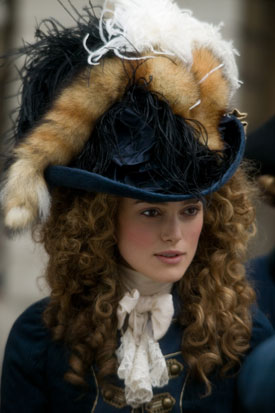 Keira Knightley has been working her socks off over the past few weeks promoting her latest movie The Duchess. If you've missed the interviews over at Pop UK then make sure you jump over there to see what the cast had to say about sex in the movie, and the Princess Diana connection.
But what we're really interested in is the costume! We already provided you with a brief insight and a few sketches but here is what Keira Knightley and Hayley Atwell had to say on the amazing costumes designed by Michael O'Connor.
The film is out across the UK today so make sure you get out to see it.




Which of the styles is more you Keira: the football kits of Bend It Like Beckham or the period costumes of The Duchess?

KK: Well, I have no plans to go around London in eighteenth century costume! But equally not football shorts either. The costumes were completely fantastic and obviously she was a very famous fashion icon. The opportunity to work with Michael O'Connor, who is a tremendous talent, was amazing. They weren't particularly comfortable. It was very simply the fact that you need to wear a corset and can't catch your breath, so any emotions are much more heightened. You can't calm them down. So they were very helpful in the portrayal of character for me.
To find out about the problems moving around in costumes read more
How long did it take you to get in to the costumes?

HA: Was it two and a half hours?
KK: Yes, and we had to be sewn in to some of them, which they would have actually been, sewn in and cut out.
HA: Going to the toilet was quite difficult.
KK: Going to the toilet was very difficult. Actually I didn't fit in to the toilet in the trailer [laughter] which is quite difficult in itself. Why do I want to share that publicly?

And what about getting in to cars?

KK: Yes, all the cars with the wigs. Actually we would walk into the car like that [sideways] it was quite difficult.
HA: They were very heavy, there were so many layers to them and so much detail. We were having to find different gestures and postures to sit in that we could sustain for long periods of time without hurting ourselves. They were absolutely extraordinary and you think; that was how they dressed every single day. At the end of the day, because the wigs themselves were so intricate and beautiful, you couldn't rip them off as I often wanted to do [laughs]. You had to unstitch yourself, so it took almost as long to get out as to get in.