Interview with Lucie Jones About Wonderbra Campaign, Wagner and Fashion
Lucie Jones on Wonderbra and Her Favourite Shops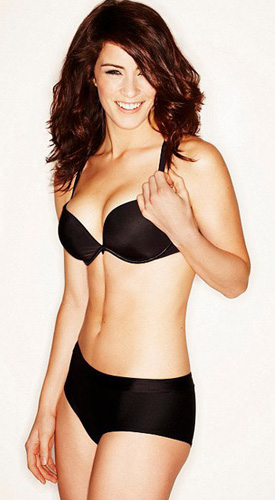 Yesterday, I shared the first part of my chat with Lucie Jones at the 2010 Clothes Show Live. The former X Factor contestant is signed to Select models so here is the second part of my interview. In this part, she tells me about her Wonderbra campaign (which is pictured here), her favourite shops and who she thinks will win The X Factor this year.
Which brands are you going to be modeling for?
At the moment, I'm working with Wonderbra, just done their new campaign which was amazing. That's like something that Dita Von Teese does! They're a household name. I am a very lucky girl!
Which are you favourite shops?
I love All Saints and Topshop. All Saints for slouchy leathery stuff and Topshop for more trend driven pieces. I love French Connection. I think of them as the middle of High Street and high end, and I love so much of their stuff this season.
To hear more from Lucie, just keep reading.
Does anybody's style inspire you?
Not really. I like peoples style, but I like that style on them. I like Vanessa Hudgens style. She's quite relaxed, laid back, but she always looks quite smart. Also, Dannii Minogue! If I could just wear everything that she's ever worn, I'd be the happiest girl in the world.
Have you worn her dresses yet?
I've worn one of them, but not to anything that anyone would have seen me at! I definitely will. I love them, and I love her.
Who do you think is gonna win X Factor this year?
Matt Cardle – I love Matt Cardle. He's wicked. I've been watching it all and I've got to say that I'm glad Wagner isn't in the final. Everyone has done so well, it's been a demanding schedule. It's a very difficult thing to do, so I've got the upmost respect for all of them, but I am pleased that Wagner's not gonna win!