Interview with Male Model Max Rogers
Introducing Model Max Rogers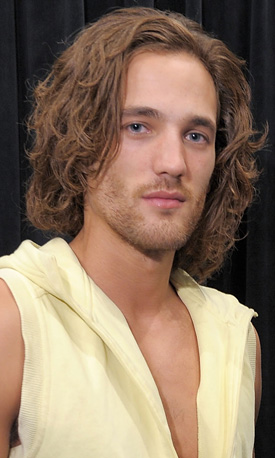 At the Clothes Show Live, they always have a live catwalk performance that includes models and dancers. The show is the highlight of the event and everybody talks about how great it is. One of the highlights in 2010 has to be Max Rogers who drives the audience crazy. The male model is famed for his gorgeous curls and his impressive torso, you might even recognise his face from the recent Tommy Hilfiger campaign (pictured in a beany hat).
I managed to grab a few minutes with him backstage before he ran off for another performance. At the end of the show, he wears a t-shirt which says 'Save The Future' which he explained is part of an EJF campaign. He requested to wear it to promote the cause and it has now sold out at The Clothes Show!
To hear more from Max and for more images, just read more.
You might have preconceived ideas about male models, but Max, who is signed to Storm, certainly doesn't adhere to those. He is concerned about global issues and promoting eco causes. When I asked about his Hilfiger campaign, he was surprised that I knew about it (it's all over the tube). He said, "I've just finished shooting the next one. I can't believe how big it's been."
His parents were hanging around backstage having watched his performance, "They can't come and watch me do photoshoots, but they like to support me here." I asked him how they felt about his adoring fans, he said, "My Dad just says 'chip off the old bloc'." It's a busy time for him as he flies off to Miami very soon and then on to Amsterdam. He is definitely a name to remember!