Interview with Mou boots designer Shelley Tichborne
A Quick Chat with Mou Boots Designer Shelley Tichborne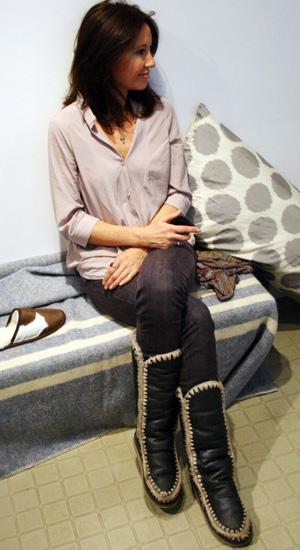 Last week, I was invited to meet with Mou boots designer Shelley Tichborne. To be honest, I didn't know much about Mou boots before I went except that Gwyneth Paltrow already had a pair, and if they're good enough for her then surely they're worth a look!
Shelley is a New Zealand born designer who now spends most of her time here. She launched her company in 2002 with the blizzard boot and has since added, amongst others, the very popular eskimo style.
I got to check out the Autumn pieces which are available now, and you can shop below. I can attest to the fact that they are very warm – even in this snow! I managed to grab five minutes with Shelley to find out more about her company and her designs. To hear what she had to say, just read more.
How long have you been designing Mou boots for?
S: I started off in 2002 with slippers and I did my first boots in 2004. This was the blizzard boot in cowskin and each year after that I have introduced more styles.
Why did you decide to design boots?
I have always loved shoes and you always wear comfortable, warm boots in the Winter. I just think there are so many ugly styles around and I thought, why isn't anybody making attractive styles? I still can't believe there are so many factories in Europe making these hideous troll's shoes, but they seem to sell. I wanted to make something different to give people an option.
They're very light to wear, which makes them much more comfortable. How did you achieve that?
I guess it must be the sole, which is made of EVA (ethylene vinyl acetate) and rubber. So it's 70% EVA and the rest rubber. Rubber is really dense and heavy so if it was all rubber, it would be really hard. We have done lots of tests on it and it's hard wearing, it won't crack or slip.
Are there any celebrities that you'd like to see wearing your designs?
There are a few, but I really like Tilda Swinton and I think Eva Mendes is gorgeous.
Is it harder to design for Spring, because they're such a winter boot?
Yes it is, but this season we've done some great Chelsea boots for Summer. They're canvas and they have ideal stitching so they're an old fashioned style. They have a flexible rubber sole. They're a great transeasonal boot. I would like to do some leather sandals too. I don't have so much of a feel for Spring – I love Winter!
Can you tell me about your Autumn collection?
Well, there's a new style – the bandeau boot. They're available now, but we're really going to push it for next Winter. I find that new styles take time to get out there. The bandeau boot was inspired by DNA! You can wear them pulled up or pushed down.