Interview with Natalie Massenet at London Fashion Week Autumn Winter 2011 2011-02-21 14:36:54
Natalie Massenet Talks LFW and Her Must Have Brands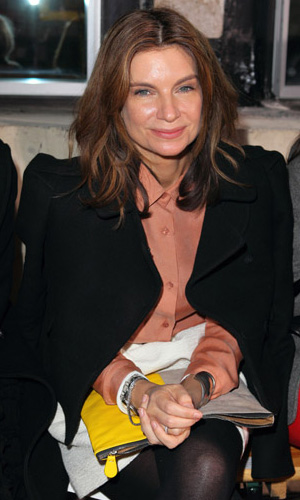 It's a busy time at Net-a-Porter HQ right now, but Natalie Massenet is still managing to attend London Fashion Week. I spotted the Net-a-Porter founder at Somerset House today and managed to quickly catch up with her about the shows she'd seen and her must have items for Spring.
Have you been to many shows? No, so this is going to be a very shallow interview! My team have been out in force. I have been in the office with the 60 strong Mr Porter team launching the site, which is going live to the public tomorrow (Tuesday). So this has been taking up a lot of my time! I managed to sneak out yesterday to go do some shows, I saw Acne where I loved the use of metalics and Temperley which was lovely. It was really sophisticated and grown up and beautiful. I thought that Matthew Williamson's show was very good, a very strong one with separates, leather jackets, lots of delicious items and a feathered skirt.
To shop Natalie's outfit and to find out about her must have brands, just read more.
I love your clutch. This is a Newbark clutch. I am trying to wear colour, this is a real break out for me to wear a rust shirt (by Carven).
What has been really popular for Spring? We've been doing really well with colour. Jil Sander is proving to be a favourite with customers, Carven, Proenza Schouler... We're selling as many miniskirts as we are maxi skirts so I think there's definitely an either/either direction you could go.
Do you have any favourite brands? I love Carven right now, Proenza Schouler, Miu Miu. They're my must haves!