Jaime King Style | October 2012
Jaime King Nails 3 Looks in 1 Very Busy Day
By the looks of it, Jaime King had quite a day yesterday — not only did the actress event-hop from the CFDA/Vogue Fashion Fund fete at Chateau Marmont to the dinner that followed, she also found the time to make an appearance at the Samsung Galaxy launch party later that night, and coordinated an outfit change for each. Besides wondering how in the world she pulled that off (?!), she's also left us with quite a bit of styling fodder. For the first event, she joined the fashion elite in a paisley-printed, peplum-trimmed sheath, befitting for a luncheon at the Chateau Marmont. Later on, she switched into a print-on-print top and trouser combo, offset with a leather jacket; for the finale, she kept the leather jacket and slipped into a feminine, floral-printed dress. While we're not suggesting that you attempt an outfit-change thrice in one night, there is a lesson here in dressing for the occasion, or three: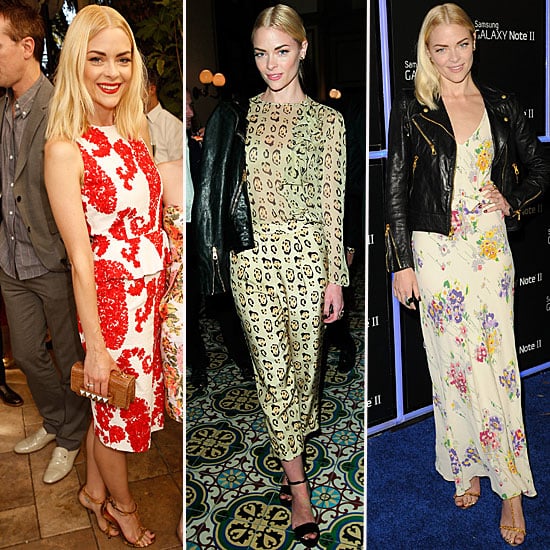 Don't underestimate the power of a pretty, ladylike dress. Jaime's standout print adds interest without upstaging the polished silhouette — it's the kind every girl should have in her arsenal, as it could seamlessly take you from an afternoon event to evening, with the change of footwear.
As an alternative to the cocktail dress, Jaime's printed trouser and top set could easily work for a more dressed-up dinner or an evening out. To temper the formality, opt for an edgy accent, just like Jaime did, with a leather jacket.
Jaime's last look is a reminder to think outside of the usual dress code. While night-out wear usually means minidresses and skinny jeans, a look like Jaime's will get you noticed for the right reasons and your fashion creativity. Look for a pretty dress with special details — a great print, a chiffon fabric, and a longer length (which can be a great option for cooler weather). If you fear you're on the too-dressy side of things, work a leather or denim jacket in the mix for a cooler effect, then finish with a great pair of heels.