Jameela Jamil Talks London Fashion Week
Jameela Jamil Talks Red Carpet Fashion and Upcoming Designers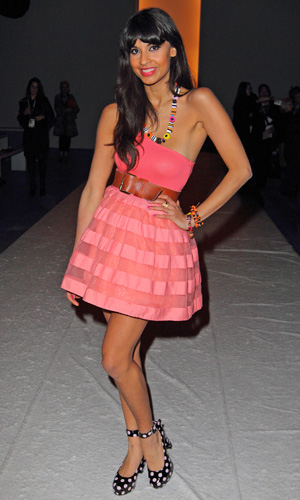 Jameela Jamil has had a busy few weeks attending the BAFTAs, Elle Style Awards and now London Fashion Week. She sat front row at several shows yesterday looking pretty in pink, and I managed to grab a quick chat with her ahead of the Jaeger London presentation.
I loved your Dolce and Gabbana dress at the BAFTAs. Thank you, it was so tight – I couldn't breathe! I had a great night, I was so starstruck. Even when I was on the red carpet I still felt like I was watching it on television. There was all these people that I've grown up worshiping. How beautiful did Thandie Newton and Jessica Alba look? Thandie in Monica Lhuillier looked like a goddess!
Have you been to many shows today? I just saw Betty Jackson, she's amazing, and I went to look around NewGen where I saw Holly Fulton and David Koma. I'm obsessed with all of them. It's really nice to see young up and coming British talent.
Do you try and wear pieces by them? Yeah, last night I went to William Tempest and he gave me a dress which is ridiculous! He's amazing.
Can you tell me about what you're wearing? You know Ed Sheeran the singer? His Mum makes these (bracelets and necklaces) so I mugged him when he came to T4 and then his Mum sent me some more. I'm wearing a Topshop swimming costume (in this weather), H&M skirt with an American Apparel frilly skirt and H&M shoes. Head to toe in High Street, apart from the Mulberry bag.