Janet Collin, interview, handbags, Mulberry,
Exclusive Few Fab Words With Janet Collin Part 2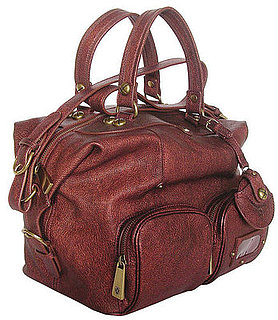 Last week I revealed the first part of my interview with handbag designer Janet Collin. She is responsible for such classic bags as the Mulberry Jacquetta, Keira, Cassidy and Eastwood. Read the second part of my interview here where she discusses chosing names for bags, launching her own line and what she carried in her own handbag.
Did you come across any obstacles this season?
Where do I start! It is a constant race against the clock to get the collections finished in time. I wish I could live on 3 hours sleep a night.
Was it daunting to step away from huge labels to create your own line?
Not in the slightest, it was incredibly exiting. You always have lots of ideas for bags that do not neccesarily fit the brand you are working for at the time so nothing really happens to all these great shapes and ideas. It just came to a point where I had my whole first collection in my head and could not wait to get start my own line.
It was very logical step for me and has been the best decision I could have made.
To find out how Collin names her bags and about the contents of her tote read more.
You have previously worked at Mulberry creating some season-defining accessories. When you're designing a handbag, do you ever imagine how much of a success it could be?
I have butterflies in my tummy when a bag really works! The wow factor, shape, material, details. Before presenting my collections to the buyers I have a pretty good idea what will be the bestseller, over the years you get to know your customer and you design bags that are better suited for them. Each season is a learning curve.
Did you ever think that handbags could be such a huge commercial success?
Absolutely. I think the fact that a handbag can really show of your style and be individual to your personal style is the key factor to their success. Every woman enjoys looking special and different and the handbag is the perfect accessory to do that.
How do you think of the names for your handbags?
Each bag is designed with a character in mind associated with the type of person I imagine would carry each particular style; the 'Dixie', for example, a practical carry-all was created with a cheeky female in mind who enjoys yoga, whilst the 'Lola' visits the theatre and choose to be different. The key inspiration for all our collections is medieval England, arms, armour and the royal love affairs. My studio is based near the Scottish border where the castles and countryside here are stunning and incredibly inspiring. The names of the bags tie in with medieval women's names and names of castles.
Who would you like to see carrying your designs?
Quirky, happy, independent strong women! I admire women such as Chloe Sevigny and Bjork for their individuality.
What do you always carry in your handbag?
I always have my notebook, a sketchbook, pencils, a book (currently The Tetralogy 'A sea of fertility' by Japanese writer Yokio Mishima (I am obsessed with Japanese literature), my digital camera (to photograph anything inspiring I see), The Guardian, blue snakeskin purse (my own Autumn/Winter 07 design), mobile, laptop, liquorish and of course my keys.