Jessica Biel Reveals Her New Revlon Mascara Commercial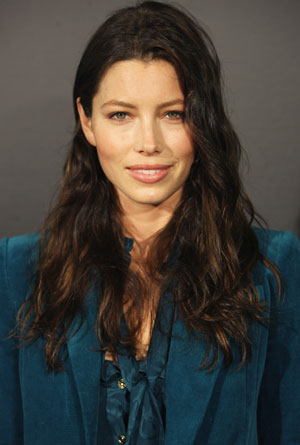 Twenty-nine-year-old Jessica Alba rocked a retro teal stretch velvet pre-Fall Gucci suit yesterday in New York City at the launch of her new Revlon Grow Luscious Plumping Mascara commercial. Her outfit kind of reminds me of what Mike Myers wore in the Austin Powers poster, but overall, I think Jessica looked beautiful.
Her hair was dark and styled in beachy waves, whilst her makeup was soft and warm. The commercial will be released in cinemas on June 13 and co-stars Pharrell Williams. Jessica is apparently decked to the nines in a low-cut, black gala-style gown with long gloves, curly hair, and, of course, dramatic lashes!
The claim to fame of this new mascara is that it conditions and plumps (by 200 percent) every time that you use it. I can't wait to check out this new spot. I hope it launches on the telly, too, but so far, there has been no confirmation of that. To check out the most recently aired lash commercial that Jessica starred in with Revlon, just read more.