Jill Stuart Does Boho-Chic Beauty at Its Finest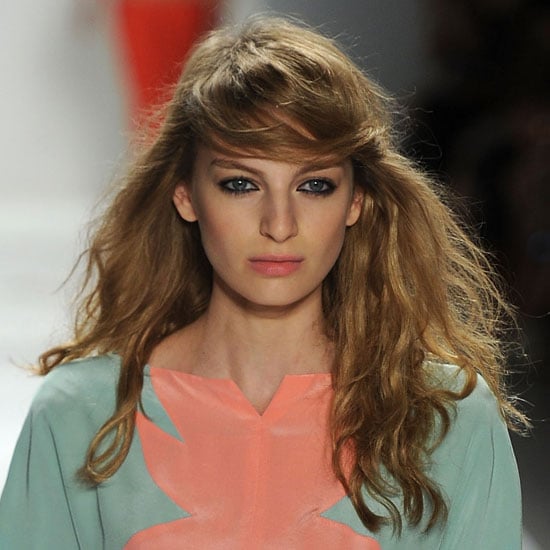 While most runway looks can be adapted for everyday wear, sometimes catwalk hair and makeup are a tad too avant-garde for the mainstream. Such was not the case at Jill Stuart's Spring 2012 show. Wearing floaty pastel frocks, models were given bohemian waves and washes of pink or orange lip color for a truly wearable look that's easy to try at home.
For the hair, Kerastase's Odile Gilbert created a volumized base with the brand's Volumactive mousse. Once dry, Lotion Densitive and Double Force hair spray were applied for texture and the hair scrunched to enhance wave and movement. To add a few playful touches, hair was then deep-parted with one side rolled back into a side-swept fringe. In addition, a single hidden strand behind the ear was braided, so that "when they [the models] walk, it comes out," explained Gilbert.
For the makeup, Diane Kendal went for a '70s-inspired, "sophisticated bohemian" look. After rimming the inside of the eyes with a soft black kohl liner, she applied a black cream liner on the top lash lines, blending to diffuse. And if you've ever wondered how to make a stained lip look last, Kendal has the answer. Of the pink and orange shades featured in the show, she advised, "It's just a wash of color, but because they're neon, it makes it very bright."

Source: Jill Stuart Does Boho-Chic Beauty at Its Finest