Jo Malone at the Chelsea Flower Show
Even Jo Malone Gets Excited About The Chelsea Flower Show
Today is the first day of the Chelsea Flower Show! We already know that a few lucky celebrities have gotten a VIP preview, but, the rest of us had to wait until the festivities began at eight in the morning (that is, if you could score a ticket to the sold out show). This really is the ultimate gardening event of the year. Flowers are flown in from all over the world, new tools and products are displayed, and overall, it's a glorious presentation from the green thumbs of the UK. I hear that the fragrances and bountiful colours alone are worth the journey!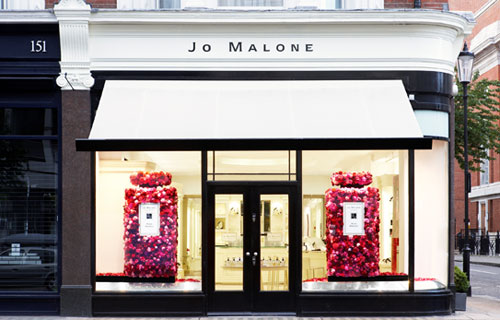 It's no wonder that Jo Malone's flagship Sloane Street store wants in on the fun. They've completely transformed the space inside and out with roses to celebrate the event, and are offering those who pass by complimentary hand and arm massages with products from their Red Roses collection. They'll also be tea, rosehip champagne and rose cupcakes — fun!
Apparently, the window displays (roses in the shape of perfume bottles) will be judged by the Royal Horticultural Society and the Sloane Association. They've won for the past two years, so the pressure to come up with something outrageous and creative is on! You can see the display and enjoy their free goodies until 23rd May. Do you think you'll be stopping by this year to support Jo Malone? For more images of the beautiful, rose covered store, just read more.