John Galliano to Face Trial as Karl Lagerfeld is "Furious" At Him
John Galliano to Face Trial and Issues Apology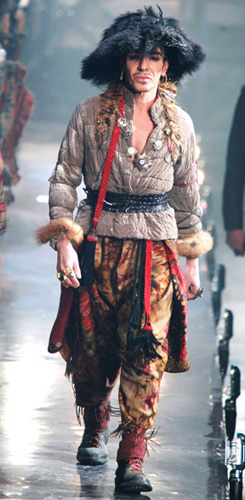 It has been decided that John Galliano will face trial in France following accusations of anti-semitic slurs used against a couple in Paris. The trial is expected to take place later this year and could result in Galliano being sentenced to six months in prison.
Around the time that this news broke, Galliano released a statement where he apologised "unreservedly" for his behaviour. Along with the apology he stated, "I completely deny the claims made against me and have fully co-operated with the police." In the statement, which was released by his law firm, he said, "Anti-Semitism and racism have no part in our society. I unreservedly apologize for my behavior in causing any offence."
Galliano was fired from Christian Dior earlier this week, although the fashion house plans to go ahead with the show this weekend. According to sources, Galliano had not completed the Autumn '11 collection so the design team are working hard to finish it.
To hear about Karl Lagerfeld's thoughts on the situation and Galliano's own legal plans, just read more.
The news began last Friday when Galliano was arrested, but he explained his prolonged silence.

"However, given the continuing delays at the French prosecutor's office, I should make myself clear. I was subjected to verbal harassment and an unprovoked assault when an individual tried to hit me with a chair, having taken violent exception to my look and my clothing. For these reasons, I have commenced proceedings for defamation and the threats made against me. However, I fully accept that the accusations made against me have greatly shocked and upset people."
Although some people within the fashion industry have rushed to explain or defend the designers actions, Karl Lagerfeld is angry. He told WWD, "I'm furious that it could happen, because the question is no longer even whether he really said it. The image has gone around the world. It's a horrible image for fashion, because they think that every designer and everything in fashion is like this. This is what makes me crazy in that story."
Lagerfeld has always been a fan of Dior (rumour has it that he was upset to lose out on a position there early in his career to Yves Saint Laurent), but he is also a close friend of LVMH CEO Bernard Arnault.

"I'm furious with him because of the harm he did to LVMH and Bernard Arnault, who is a friend, and who supported him more than he supported any other designer in his group, because Dior is his favorite label. It's as if he had his child hurt."
Meanwhile, celebrities have been taking to Twitter to share their thoughts on the situation. Daphne Guinness tweeted, "It is mysterious as what little I know of john he is not racist, sensitive and has been having a struggle." She later added, "The infamous tapes of galliano praising Hitler are beneath contempt. Anyone with any humanity should condemn these repulsive remarks."