John Galliano is "Shocked" by Suspension and Filing Defamation Claim 2011-02-26 05:44:02
John Galliano Fights Back at Allegations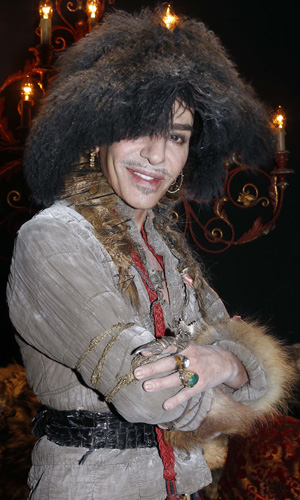 The fashion world was stunned yesterday to hear the news that John Galliano had been arrested for being allegedly abusive and anti-semitic. The Dior designer was reportedly drinking in Paris when the incident happened with a couple in the le Marais district.
Galliano has since been suspended from Dior pending further investigation and has now filed a defamation claim against the couple. He is said to be "shocked" by his suspension. His lawyer Stephane Zerbib told WWD that Galliano "is not guilty and is not embroiled in a court case or anything. He feels [the suspension from Dior] is a decision that has been made without verification of the facts and based on one side of the story and he is very shocked about that."
Galliano insists that the racist and anti-semitic comments were never uttered and that he has provided police with three witness statements. Le Figaro gained access to the police reports and has details of the exact comments which he is accused of making. It also states that Galliano was arrested, given a medical test (to prove how much alcohol was in his system) and soon released.
To find out more about this story, just read more.
A source who was in the cafe at the time suggests that maybe Galliano wasn't at fault. They told Vogue, "He spoke to a couple at a nearby table to say 'Cheers' and they insulted him. An argument started and the police came, so Galliano's bodyguard suggested that they should go to the police station to sort it out. He wasn't 'busted' aggressively by police, it was very quiet and peaceful. I definitely didn't hear him say anything anti-Semitic, or against any religion, it was all very calm."
Italian Vogue editor-in-chief Franca Sozzani spoke to The Telegraph about the incident at Milan Fashion Week saying, "Christian Dior without John Galliano would be a pity" (you can see the full interview below). It will be interesting to find out much about this case as it unfolds.