Joseph Velosa Speaks About the Future of Matthew Williamson
Few Fab Words With Joseph Velosa About Matthew Williamson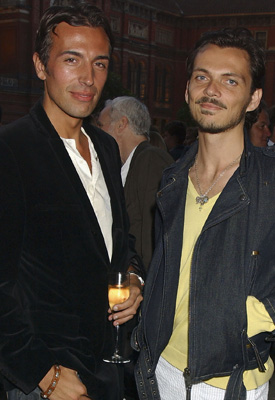 Yesterday, Matthew Williamson CEO Joseph Velosa was the focus of a Fashion Business Club event. He was interviewed by Imran Amed who asked him a range of questions about his career and the future of the brand.
Matthew is often pictured with his celebrity friends, most recently at the Belvedere party with Sienna Miller. Joseph was asked about the importance of celebrity and explained, "Every brand needs and craves celebrities, but the difference with Matthew is that the connections and friendships are genuine. He's spotted with stars when 'off duty', but it's not a fundamental part of the brand, it's an added bonus."
One of the most intriguing things to come out was that Joseph would really like to extend the brand in to homewares. He said, "I think it's a good fit for the brand, but it needs a licensing deal. We're thinking soft furnishings and furniture to make it an important extension."
As part of the British Fashion Council, Joseph is excited for the future of the city as a fashion capital. He explained that he was nervous about the move back to London as it was a "big test for the brand, but it didn't affect sales".
They now plan to stay in London for the foreseeable future. He thinks that the new British Fashion Council under Harold Tilman will give London a "good chance to sustain" as a fashion capital adding that the "internet has changed everything". He explained that people can now watch shows from anywhere in the world and this makes location less problematic. I found this whole thing very interesting, would you like to see Matthew Williamson homewares?