Karl Lagerfeld and Claudia Schiffer Team Up for Spring 2010 Chanel Campaign in Argentina
Karl Lagerfeld Heads to Argentina for Spring Ad Campaign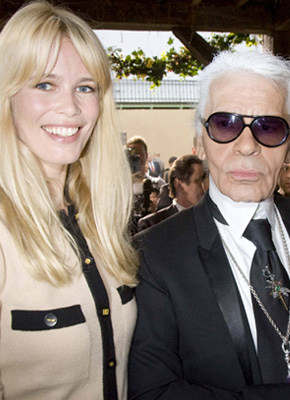 Tis the season for new ad campaigns as head designers and their muses line up the best photographers and get snapping for Spring 2010. Earlier this week, I told you that Natalia Vodianova looks likely to be the star of the new Yves Saint Laurent campaign, and now I can reveal another as Claudia Schiffer bags Chanel.
The London based supermodel flew to Argentina last week with Karl Lagerfeld to begin shooting the Spring campaign along with Argentine model Iván de Pineda, Freja Beha Erichsen and, of course, Baptiste Giacobini.
Pineda explained to WWD, "Tango, elegance, antiques, and good sunlight. They're amazed about the size of Buenos Aires, the beauty, the cuisine, the great cultural offer and especially the buildings and architecture." Although the official images are yet to be seen, I can share pictures of Claudia in a gaucho hat in a traditional Argentine house. The entourage spent a week in the South American country.