Karl Lagerfeld Presents Britney Spears with Bambi Award
Fab Blab: Britney Gets a Karl Lagerfeld Seal of Approval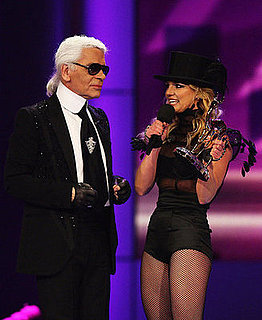 Last night the Bambi Awards took place in Germany bringing together European celebrities alongside the likes of Pink, Britney Spears and Leona Lewis. There was also an unusual meeting between Karl Lagerfeld and Britney as he presented her with the Best International Popstar award.
Amazingly, it seems that Karl is enamored with the popstar as he tells her,
"I'd admire you not only for your art but also for your energy. You're coming back not only as a phoenix but as a bird of paradise." Whilst he is complimenting her Britney appears quite amused and I can't help but wonder if she either a), can't understand him or b), is trying to figure out who he is! Either way, I hope we see Britney in the front row at Chanel's A/W 09 show.
To see a video of Karl presenting the award just read more.