Karl Lagerfeld Quotes on Beauty, Style, and Smoking
Say What? Karl Lagerfeld's Most Outlandish Quotes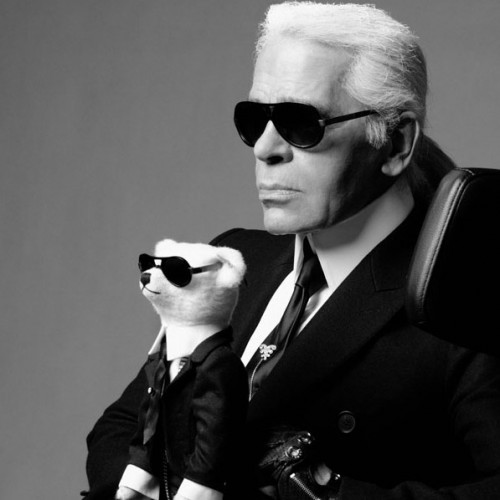 Designer Karl Lagerfeld isn't known for his restraint, particularly when it comes to the subject of beauty and aesthetics, and he's said some pretty jaw-dropping stuff over the years. It's never a dull time with the kaiser around, so to see his most flabbergasting opinions on beauty, just keep reading.
On how he looks when he wakes up:
"That's why I sleep alone. My hair is curly, and that's why I have my ponytail. I look like a madman, like something out of a horror movie," Karl admitted in an Interview magazine story.
On why it's important to look good, even when you're asleep:
"When I was a child, my mother always told me that you could wake up in the middle of the night and be deathly sick, so you always have to be impeccable," he also told Interview. "I laugh about it now, but I think everyone should go to bed like they have a date at the door."
On why he's never been a smoker:
"When I was 14 I wanted to smoke because my mother smoked like mad. I wanted to smoke to look grown-up," Karl revealed to Vice magazine last year. "But my mother said, 'You shouldn't smoke. Your hands are not that beautiful and that shows when you smoke.'"
On why he wears his famous sunglasses:
"They're my burqa. A burqa for a man," he told Vice. "I'm a little shortsighted, and people, when they're shortsighted, they remove their glasses and then they look like cute little dogs who want to be adopted."
On knowing Andy Warhol:
"I shouldn't say this, but physically he was quite repulsive," the Kaiser also admitted in his Vice interview.
On his emotions before a fashion show:
"I have no human feelings," Karl told The Guardian in 2007.
On what it's like to work at Chanel:
"At Chanel, there are no meetings. At Chanel, we do what we want, whenever we want, and it works," Karl explained to W.
On why he'll never change his hair:
"Because I'm afraid it won't grow again. And I'm not very gifted for hairdos," he told W in the same interview.
On the "easiest" way to give yourself a makeover:
"To reinvent a newly impeccable you in the most modest of outfits, don't skip on makeup, and be sure to have flawless skin and hair," Karl told Harper's Bazaar back in 2009.
On being chic:
"Chic is a kind of mayonnaise; either it tastes, or it doesn't," Karl said in reference to his 2004 H&M collection, according to Vogue UK.
On what's really important:
"Vanity is the healthiest thing in life," Vogue UK also quotes Karl as saying.
On short and/or unattractive people:
"Life is not a beauty contest; some [ugly people] are great," Karl said in another gem from Vogue UK. "What I hate is nasty, ugly people . . . the worst is ugly, short men. Women can be short, but for men it is impossible. It is something that they will not forgive in life . . . they are mean and they want to kill you."
Photo courtesy Colette