Kate Moss Criticised Over Skinny Motto
Kate Moss is Branded Irresponsible for Skinny Comments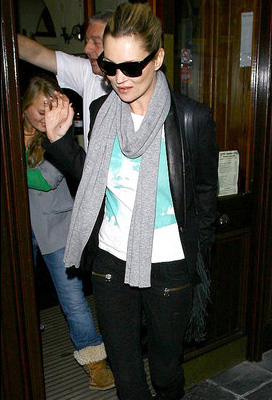 When Kate Moss gave an interview to WWD about her new fragrance, I was pretty shocked to hear her reveal one of her mottoes – "nothing tastes as good as skinny feels". It seems to have been a bit of a slow burner in the news, but today it has landed the model in trouble as eating disorder charity Beat described the comments as "dangerous" and "very unhelpful".
Storm models released a statement saying that Kate's comments had "been taken out of context and completely misrepresented." They also added, "For the record - Kate does not support this as a lifestyle choice."
Former model Caprice has spoken out against Kate saying, "I don't even know why she said that. I really like her but it's so irresponsible." The saying is strongly associated with eating disorders and regularly appears on pro-anorexia websites.
In recent years there has been a lot of campaigns in place to tackle the so-called "size zero" including one set up by former Ultimo model Katie Green. She also branded Kate as "irresponsible" for her comments adding, "We are trying to get the government to put something in place to stamp out size zero models and comments like this aren't doing anything to help that." Do you think that Kate should know better, or do you believe that she has been misrepresented?