Kate Moss for Topshop Wins Design Award
Fab Flash: Kate Moss Wins Design Award
When you think of 2008, which dress springs to mind? Maybe it's Herve Leger's bandage dress, Gareth Pugh's dramatic designs or Balmain's rock chick gowns. Well, none of these dresses have been awarded this week as Bath's Fashion Museum awarded model-turned-designer Kate Moss' creation with the prestigious title of Dress of the Year.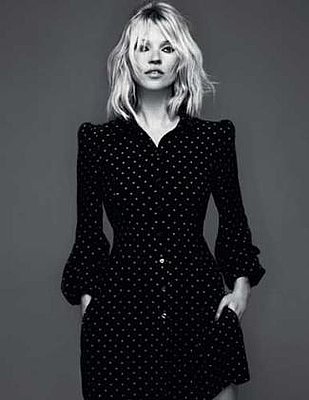 Even at this point, maybe you're thinking of the panther print mini or the pansy print summer frock, as at the very least these were memorable. However, this is not the case as the actual winner is a long sleeved black number which retailed for just £60. Grazia's fashion editor Paula Reed commented, "Great style is not about a bottomless budget: a high street dress can own its style credentials as convincingly as a couture one."
Previous winners include Marni, Prada and Giles Deacon all of which form part of an exhibition at the museum. This year's surprising choice is likely to be a reflection of the changing economy and highlighting Kate's role in fashion. Museum manager Rosemary Harden explained, "She is quite a new departure in fashion history – a model with a very distinct sense of style, which she has applied to one of the leading high street chains, with massive success. As a fashion historian, I'm glad this has been recorded."
Earlier this year Kate also won an award for her fragrance. It seems that she is a model determined to prove that she is literally not just a pretty face!