Katie Holmes Clothing, Holmes and Yang
Are You Excited For The Launch Of Katie Holmes' Collection?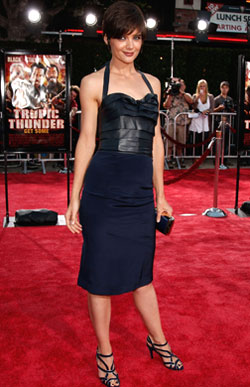 Katie Holmes is sure building an impressive CV. It has just been revealed that this singer, dancer, actress, wife and mother can now add clothing designer to her list of duties, as she and her stylist Jeanne Yang are gearing up to launch their first ever clothing collection together this Autumn called Holmes & Yang.
If you remember, last August, I told you that Katie had designed the navy dress that she wore to her hubby's Los Angeles Premiere of Tropic Thunder. At the time, she claimed it was just a one-off item, however, it seems that after being exposed to such incredible fashions as of late, she's decided to give designing a go.
The duo is set to launch a full collection for women and girls that will be sold at Maxfield department store in LA. I can't wait to feast my eyes on these goods. If I had to take a guess, I'd bet the pieces will include sexy, yet reserved, well constructed, well tailored basics. What are you expecting?