Katie Holmes Shows Off her Chloe Paraty Handbag
Bag to Have: Chloé Paraty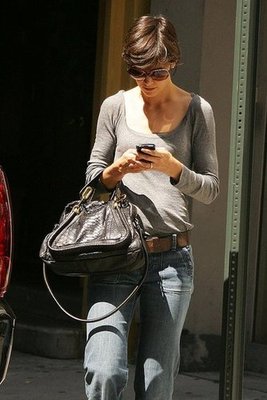 Katie Holmes has been hosting a one-woman fashion show for casual attire recently as she heads to rehearsals in NYC for All My Sons. She has been favouring baggy boyfriend jeans (rolled up slightly) and plain tops or crisp white shirts.
However, we must not overlook her choice of accessories! The beautiful handbag which she has been showing off is the latest from those handbag geniuses over at Chloé. The Chloé Paraty is adored by mortals and celebrities alike. Kate Bosworth had hers way back in April but we had to wait. Katie has hers in python which raises up the price slightly.
Although it's not currently available online my sources at the Chloé store on Sloane Street, London inform me that they do have the leather bag in stock for £891 or in python skin for £1780.