Kingston University Graduate Show 2009
Graduate Fashion Week: Kingston University
I was incredibly impressed by the high level of quality at the Kingston University show. Each of the students ensured their pieces were finished to a high spec showing off their individual style. There was a lot cohesion within the mini collections too as they ran with a theme and stuck to it.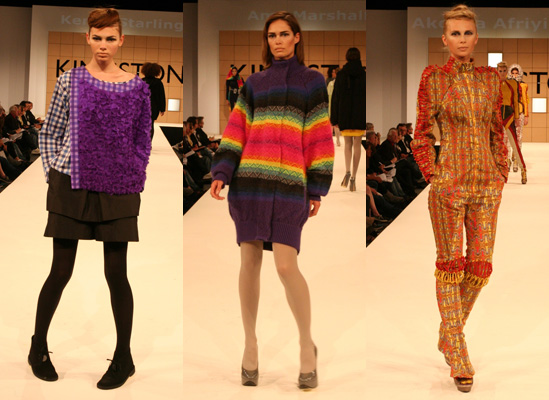 For further photos from the show, just read more.
Amy Marshall brought a ray of sunshine to a slightly overcast Sunday with her technicolour knits which reinvented fair isle. She used bubble shapes with pieces that had a utility leisurewear feel. Kate Hamilton also used strong shapes for her formalwear collection which included exaggerated shoulders, high collars and carefully placed panels.
A popular line was created by Akosua Afriyie-Kumi who fused tribal and geometric prints for a collection of very funky jumpsuits. They were produced from a colour palette of oranges and reds much like Jonathon Long's androgynous womenswear. He went with an autumnal feeling with exaggerated shoulders and high waisted trousers.
You might associate a winter wardrobe with dark shades, but Katherine Gibbs offered a brighter alternative. She layered up thick items in fuschia, turquoise and yellow for an Indian inspired colletion. This is a university that is sure to play a pivotal role in the future of fashion design.
Photos by Kirsten Borst