Lady Gaga Gets In Flight Swelling Due to Possible Deep Vein Thrombosis
Lady Gaga Literally Suffers for Fashion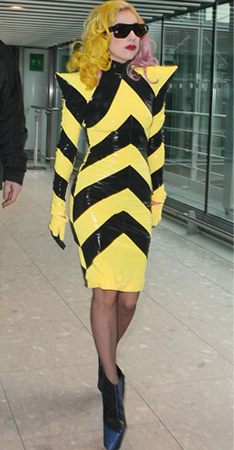 Lady Gaga appeared on Jonathan Ross last week switching between an impressive four outfits including an intriguing Phillip Treacy telephone hat (a possible promotion for her new duet with Beyonce?) As part of the interview she discussed her dedication to dressing up and said, "I would rather die than have my fans not see me in a pair of high heels."
Well, it now seems that Ms. Gaga is taking fashion so seriously that she is literally suffering for the cause. On a flight from London to the US, she was wearing this yellow and black chevron dress with a pair of Alexander McQueen heels when her legs reportedly began to swell. Cabin crew thought this might be the early stages of deep vein thrombosis so encouraged her to change quickly.
She needed help changing and was supposedly especially annoyed about not being able to wear her favourite McQueen heels. I am continually impressed by Lady Gaga's dedication to style, but do you think this is a step too far?