Lauren Weisberger Talks Denim, Heels, and Revenge Wears Prada
Bookworms and fashion girls alike rejoiced over the news that Lauren Weisberger's Revenge Wears Prada, a sequel to her wildly popular The Devil Wears Prada, was coming out — and now it's here! We chatted with the author while she hunkered down in an Atlanta airport amidst her book tour (the East Coast this week, followed by London and then California — we're exhausted just thinking about it).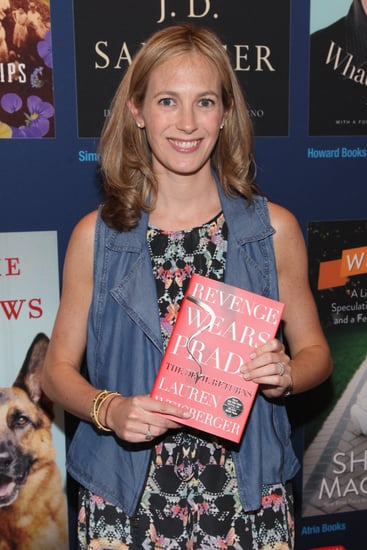 POPSUGAR: If the devil was initially wearing Prada, what are some of the new power labels she's buying today?
Lauren Weisberger: I'm pretty out of the loop about that stuff. I have a 1- and a 2-year-old, and these days my fashion labels are determined by what doesn't have vomit on it.
PS: What sort of styles do you gravitate toward?
LW: I'm really a jeans girl. I find there are very few events I can't wear jeans to . . .possibly only weddings. When I'm getting dressed up, I like jeans and a blazer and heels. At this very moment, I have on jeans and a t-shirt and TOMS, and that's pretty much what I wear all the time.

Keep reading for the author's denim brand of choice, traveling tricks, and biggest splurge (it's probably not what you're thinking!).
PS: What's your denim brand of choice?
LW: I like skinny and long and soft . . .not so easy to find. I like Genetic a lot, and Mother.
PS: Have you been a lifelong jeans girl?
LW: Always, always, always.
PS: Where do you stand on heels? Does a great statement shoe have a place or do you put comfort above all else?
LW: I do think comfort trumps everything, but that said, I wore a pair of five-inch, red, patent leather Jimmy Choo heels last night in Atlanta. I brought my flip-flops in my purse and the second after I [was done] changed them, but it was so worth it. I was in agony, but it was worth it — they looked great. But absolutely agony.
PS: You're traveling a tonne for your book tour right now. What cities rank as your most fashionable?
LW: There's no better shopping than New York, because there's nothing that's not in New York. But I love malls. I kind of miss them. I miss going into one temperature-controlled place and wandering from store to store. I was just in Miami and did an event at the Aventura Mall and my eyes were just wide. I didn't have any time, but I just wanted to roam the mall. I was in Atlanta last night and could see Bloomingdale's from my window and it was just such a draw.
PS: Have you found some major tricks for traveling so much?
LW: I pack carry-on only which I think is incredible. It's taken me years to get here. I'm in the airport every single day, sometimes for five or six hours, and it saves so much time. I always bring a noise machine and ear plugs. Noise-cancellation headphones are not enough. On the plane, I'm normally working, but if not, I'm reading. I never watch movies. I love them, but I'm totally movie-illiterate. It never even occurs to me to watch a movie.
PS: When you got your first big check from writing, did you splash out on a major purchase? A new bag, a pair of shoes maybe?
LW: I did treat myself to a big purchase. The first thing, the only thing I bought for a long time really, was a Maltese. I got her in 2002 and I overpaid and I'm horrified to say she's most likely from a puppy mill because I got her from a fancy pet store on the Upper East Side [of New York] because I didn't know any better. I just fell in love with her and she's with me to this day. She was my first celebratory purchase, and she certainly lasted a lot longer than a pair of shoes. She predates my husband and my kids and everything. She's been such a loyal friend. Her name is Mitzy.