Lily Allen Discusses Jewellery Range for Autumn 2009
Fab Blab: Lily Allen on her Jewellery Line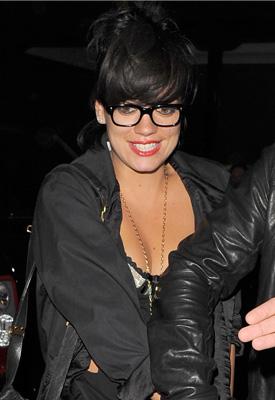 Cast your mind back to May when I asked you if you'd be interested in a Lily Allen jewellery line. Well, two months down the line and it seems that there is some truth to the rumours as her venture in to accessories design is confirmed! Lily has been speaking to Vogue about the range which she seems excited about.
"I love jewellery, always have done. I feel that it completes an outfit. You can change your whole look just by changing which jewellery you choose to go with what you're wearing," she explained. The collection will consist of nine different ranges featuring unique themes. She will combine the unusual (road signs, acid faces and poodles) with more classic elements such as flowers, medallions and coins for the pieces which are inspired by Chanel (naturally) and Dinny Hall.
Lily added, "I'm really pleased with all of the designs, we worked hard on getting them exactly how we wanted them from choosing the right chain length and thickness to deciding what should be in gold and what looks better in silver. I do love the animals though – the pandas are fantastic." The range is due to be released in September with images released soon.