Lily Cole Talks about Models, Her Breasts, Falling in to Modelling and Politics
Fab Blab: Lily Cole Talks About Curvy Models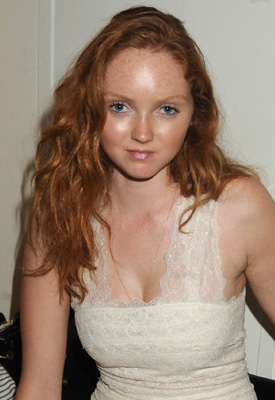 There are many films that are released this Autumn which I am excited about, but none am I as intrigued about as Terry Gilliam's The Imaginarium of Doctor Parnassus. It was Heath Ledger's final movie as he met his untimely death whilst it was still being filmed, but I am also excited to see Lily Cole in her first major acting role.
This weekend, Lily spoke to The Sunday Times about the movie, relationships, the changing face of fashion and studying at Cambridge University. When asked about putting off her education before finally taking up a place on the History of Art course, Lily cooly explained, "People change direction all the time; there's a lot of value in that. I fell into modelling. It wasn't a choice; not that I was forced into it. I just got asked one day to do it, and I believe in taking opportunities."
To find out more about Ms. Cole, just read more.
As well as starring alongside Heath Ledger, Lily's other acting efforts will be unveiled this Autumn as Rage hits cinemas across the UK. This film looks at the modeling industry as she plays a character who suffers from an eating disorder who states, "The way to be big is to be little." However, this does not reflect her own experiences.
"There's definitely still a fascination with being thin and skinny in the modelling world. I also think there's a celebration of curves. I have breasts. I love my breasts. There are models now who have more curves, and that's seen as a good thing. I was never asked to lose weight. I'm assuming people who are less successful are the ones who are told they need to be teeny to be so."
She revealed that despite her bohemian nature, she still likes some convention, saying,

"I haven't got a lot of stability, because I'm running around, but I'm seeking stability in relationships with friends, family and lovers. So in those ways I am quite conventional. And I want to get married and have children."
Are you excited to see Lily's first acting efforts?