Lindsay Lohan for Elle Magazine Behind the Scenes Cover Shoot with Rankin Dior Jewellery
Fab Cover: Lindsay Lohan for Elle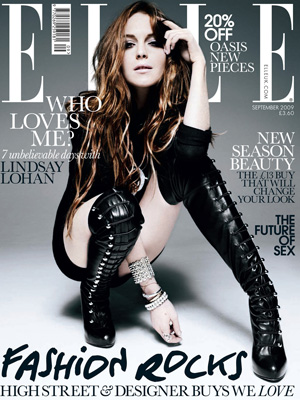 It's the start of a new month, so lots of exciting covers are being unveiled for the September issues. Lindsay Lohan has bagged the cover of Elle UK with a controversial shoot that resulted in the loss of over £20,000 of Dior jewellery.
The investigation is on going, but unfortunately this means that Lindsay (who Elle are not holding responsilbe) was unable to be shot in any of the items. Westminster police commented, "We will be speaking to a number of people in connection with the inquiry. We do not discuss the names of people we are planning to interview."
Lindsay was shot by Rankin for the magazine which resulted in some amazing images. She posed in pieces by Yves Saint Laurent, Louise Goldin, and from her own label 6126, but was unfortunately not interviewed for the publication. The issue hits newstands on Wednesday. To see behind-the-scenes of her shoot, just read more.
You can see more images from the shoot over at PopSugar UK.
Cover courtesy of Elle.