Lindsay Lohan Lands Ungaro Artistic Position
Fab Flash: Ungaro Hires New Chief Designer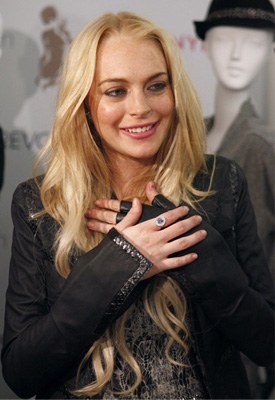 It's been a tumultuous Summer for Ungaro following the departure of creative director Esteban Cortazar back in July. Today, a line up has been announced which includes relatively unknown name, Estrella Archs, as the chief designer. It also includes the slightly controversial decision to appoint Lindsay Lohan as "artistic adviser".
The pair are expected to present their first collection in Paris on 4th October with both of them coming out together at the end. The brand is hoping to gain publicity (which no doubt it will with Lindsay on board) whether it be good or bad.
Mounir Moufarrige, Ungaro's chief executive officer explained, "Odds are it could work. Everything we're going to get is going to be a plus. I think the noise level around Lindsay will be very, very big."
Lindsay told WWD that she wants to take Ungaro to a "younger place". She added,

"When I'm involved in a project, I give my all to it. I feel like there's a correlation between everything I do, whether it's pop music or film. I've always played a big part in what I wear, the costumes. Clothing is something that's so expressive in so many ways. It really interests me."
It's certainly an intriguing decision, how do you feel about Lindsay latest appointment?