Lindsay Lohan Shows Off her Latest Must Have Tote
Bag to Have: Pauric Sweeney Python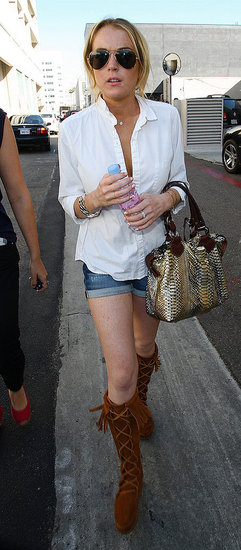 Do you remember way back in late 2006 when an unusual friendship struck up between LA's wild child Lindsay Lohan and London's enfant terrible Kate Moss? All kinds of rumours flew around as the two hungout together causing trouble on both sides of the Atlantic. I digress, but I have to wonder whether their bonding happened over their love for Minneonka Moccasins? Wouldn't that be a great friendship, one that was formed over a love for a certain brand of shoe or handbag?!
Lindsay Lohan was spotted back in LA this week showing off both her legs and her awesome metallic handbag. I'm never sure how I feel about boots and shorts as it's like the t-shirt and scarf conundrum where you mix two extremes. But it's actually good to see Lindsay out of leggings and the crisp white shirt is a classic item.
Pauric Sweeney has created this classic shoulder bag in a range of colours and fabrics. There are two metallics python versions (like Lindsay's) for over £1000 (eek) but there are also great versions around £600. See below to get Lindsay's bag and look.