London College of Fashion BA Show 2009, Graduate Fashion Week
Graduate Fashion Week: London College of Fashion
Yesterday Covent Garden's Flower Cellars played host to the London College of Fashion BA graduate show. Years of hard work culminated in this presentation for 28 students who each had their individual interpretation of current trends and their own personal style. The show opened with Joanne Jones' Rodarte inspired collection with amazing zip-back coral leather trousers and neutral pieces. Annick Littlewood created movement in her pieces with cutout detail and leather feathers. Alicija Aputyte won a textiles award for her electric blue, laser cut mini dresses. Next Alice Morton brought psychadelic prints in patches on her '70s inspired frocks, whilst an equally as bright palette was used by Hoi Lam Wong with a funky floral fabric.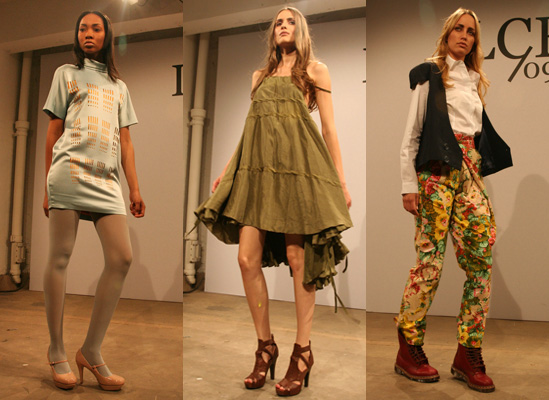 One of my favourite collections was Alex Rosenwald's dramatic parachute designs which included a long billowing dress with a jaw-dropping train. The show closed with another of my favourites by Bahar Alipour. The neck warmer and hat combo rounded off the big shouldered looks. What do you think of the future of fashion design?
For further images from the show, just read more.
Photos by Kirsten Borst