London College of Fashion MA 2010 Show at the V&A
London College of Fashion MA '10
Last night the V&A's beautiful Raphael gallery played host to the 2010 London College of Fashion MA show. 19 young graduates presented two years of hard work with their individual designs. There was a bit of celebrity support for the show including Jo Wood, Jodie Harsh (with amazing candy floss hair), Paloma Faith and Amber Le Bon who told me it was "exciting to see what we can expect in the next few years from British fashion". The first collection which caught my eye was Soo Youn Seo's cartoonish collection with bright one colour outfits with glitter panels, draped silk skirts and embellished shoulders.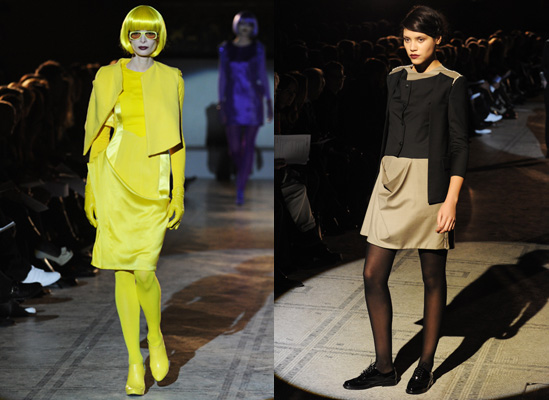 To hear more about the show and for further photos, just keep reading.
The next student who impressed with Yeo Ok Kim who used weave to create body armour like pieces. There were boxy shoulders and harem trousers in the collection with a monochrome cloud print. Hasan Hejazi had fun with sequins for a disco inspired collection. Here corsets were built in to long dresses with sheer panels on the back and applique bright coloured fur.
Young Li Lee went for a much more ladylike approach with architectural shapes created from draped fabric on knee length dresses. There was blue lace and gold buttons which added a luxurious feel. These designs wouldn't have looked out of place on a Prada catwalk.
Photos by Chris Moore/Getty