London Fashion Week AW 2009: Ashley Isham
It was a grey, drizzly morning for the start of the final full day of fashion week, luckily Ashley Isham injected a bit of glamour to proceedings with his red carpet worthy Autumn collection. The show began with ladylike daywear such as quilted jackets, high waisted pencil skirts and carefully draped silk dresses.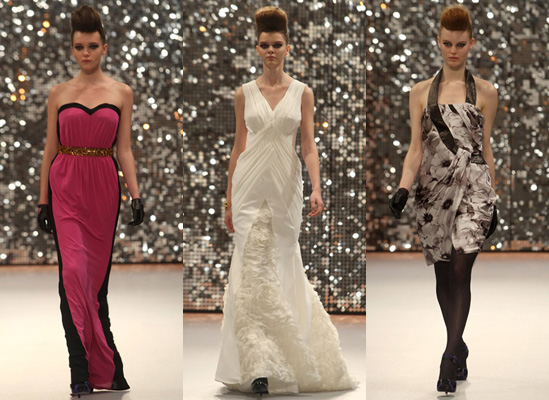 The collection gradually built up the glitz with the introduction of bejeweled applique and floral jacquard, accumulating in a jewelled corset and matching skirt. The designs then took a red carpet turn with floor sweeping bandeau gowns with plenty of ruffles.
For further thoughts on the pieces and images, just read more.
There was a Grecian feel to the white almost bridal-like dresses towards the end of the show. They featured ruffle detail, dramatic trains and sari style beading. Weave detailing around the bodice kept the dresses form fitting.
There was a star studded front row as Erin O'Connor, Jade Parfitt, Beverley Knight, Tess Daly and Olivia Inge all sat alongside each other. Afterwards Tess (who "loved" the show) confessed that she was eying up the gowns for the next series of Strictly Come Dancing. "I particularly like the pink one with a black stripe down the side and a gold belt," she revealed. You heard it hear first!
Olivia also enjoyed the glamorous presentation and fell for the charm of a gold lace dress, she was also very impressed with the model, "The girl who wore it did some good posing," she mused. What do you think of Ashley's designs?